Friday, October 10th 2008 [ versión español ]

In order to offer better quality interviews, considering the aspects of time and space, for the first time, the University of Puerto Rico at Mayagüez (UPRM) Placement Office allotted two consecutive days for its career fair.

September 26 & 27, 2008 were the days chosen for carrying out the 20th career fair, considered one of the largest of its kind, in Puerto Rico, which as usual, took place at the Rafael A. Mangual Colesium.

"Last year there were more than 120 companies that participated, the area was extremely overcrowded, and that is why this time the event was extended another day," explained Nancy Nieves, director of the Placement Office. Nieves, who has organized the event for the past 13 years, noted that this year 108 companies participated in the event. Among them were representatives from state, government, and federal agencies, as well as private companies. Two of this year's participants, Verizon and Boeing, have been participants from the very beginning.

On this particular occasion, close to four thousand UPRM students, from every department, flocked to the coliseum in search of employment, or placements in internship or co-operative programs, offered by recruiters. This was the case of Edgardo Lebrón Crespo, Mechanical Engineering student, who accompanied by many of his classmates, patiently waited in line near the General Motors booth.

"I hope to receive an offer for full time employment, or some type of co-op internship for the up-coming year," expressed Lebrón.

The fair was also the meeting point for UPRM graduates, who returned to their alma mater as recruiters. Alumni of the Mechanical Engineering Department, Alba Colón, of the Class of 1991, returned to the institution that molded her professionally with the eagerness of someone who hasn't been home for an extended period of time.

"It's a beautiful experience, the power of returning to your alma mater and showing the company you work for the good students, the excellent graduates that we have here," stated Colón.

In fact, the former student, who is a perfect example of this select group, mentioned that the experience and the education she acquired at UPRM prepared her for the position she holds today, as the first female, and first Puerto Rican Administrator of the Nascar Program for GM.

The Career Fair wasn't only limited to these two specific days, from the beginning of the semester different activities have been carried out as a means to support students in their transition to the work world, such as information tables, and conferences, to mention a few. UPRM Chancellor, doctor Jorge Iván Vélez Arocho, among other faculty members was present for the occasion, where a cake was cut to celebrate the 20th annual UPRM Career Fair.

Verify that your navegator can ejecutate javascript and that has the most recent version of Adobe Flash Player.

Dowmload Flash Player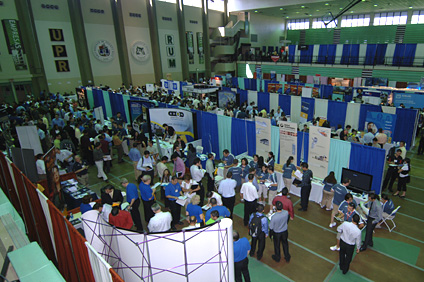 The career fair took place at the Rafael A. Mangual Coliseum.

For the first time, the fair was carried out two consecutive days.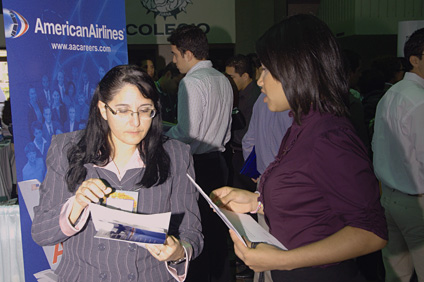 The recruiters had more time and space for interviewing candidates.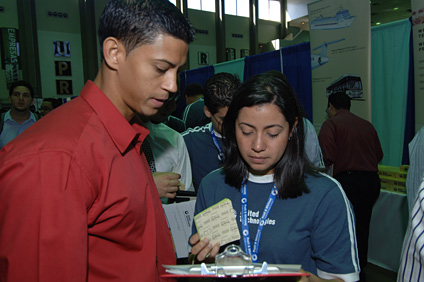 Almost 4 thousand UPRM students attended interviews.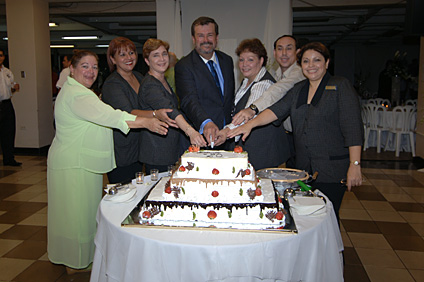 As part of fair events, the 20th career fair was commemorated by the traditional cutting of the cake.
Photographs by Carlos Díaz / UPRM Press