Friday, October 17th 2008 [ versión español ]

Scholarships from Boeing were awarded to 19 students from the Departments of Business Administration and Engineering at the University of Puerto Rico at Mayagüez (UPRM).

Students awarded with scholarships for the amount of $2 thousand include: José E. Mangual Torres, Francheska López Quiñones and Emmanuel J. Merced Grafals, of Electrical Engineering; Joaquín H. Ayala Hernández, Omar D. Torres Miranda, Angeline I. Collazo Rivera, Josseymar Landrau Román and Nayomi Z. Plaza Rodríguez, of Mechanical Engineering.

As well as, Hildelix L. Soto Toro y Yeritza Pérez Pérez, of Civil Engineering; Xavier E. López Vélez and Gadymel Méndez López, of Computer Engineering; Paola Blanco Rodríguez, Amy J. Weber Acosta, Edward Díaz Rivera and Josué E. Juan Martínez, of Industrial Engineering. From Business Administration, Yamil I. Torres Ramírez, Giovanna Rivera Ruiz and Arlene Acosta.

Chancellor, doctor Jorge Iván Vélez Arocho thanked Boeing for its contribution and economic support of UPRM students, for the seventh consecutive year. He indicated that one of the principal reasons that businesses invert time and money into UPRM students is because of the development that the institution allows them.

"The globalized world in which we live requires development, at a very high level, in science, engineering, mathematics, and technology. This can only be achieved through an alliance between industry, academics, and government," stated Vélez Arocho.

Similarly, Engineer José font, senior manager of Boeing, highlighted the importance of the collaboration among enterprises that represent UPRM.
"The work that professors do in educating their students, trying to reinforce what they are doing, it means something, it merits acknowledgment and the manner in which we acknowledge them is by donating to the University, taking time to help the university to keep moving forward," said Font.

Students Acosta Vargas and Méndez López, representatives of all the students receiving scholarships, thanked Boeing for the economic assistance they received.

At the ceremony's closing, the Chancellor presented Font with a ceramic figurine of the UPRM mascot, Tarzan, so that UPRM and its students would be represented at the company.

The Ceremony was organized by Ana I. Rodríguez, Financial Aid Director, who also acted as an intermediary in the presentation of the scholarships.

19 students from Engineering and Business Administration received scholarships awarded by Boeing.

Each student received a stipend of $2 thousand dollars, presented to them at a ceremony, in which they attended with their respective family members.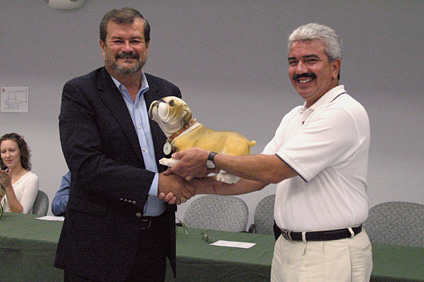 UPRM Chancellor Jorge Iván Vélez Arocho (to the left) presented a ceramic figure of UPRM's mascot, Tarzan, to engineer José Font of Boeing.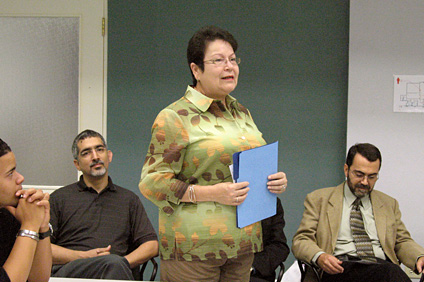 Ana I. Rodríguez, Financial Aid Director, acted as the intermediary in the presentation of the scholarships.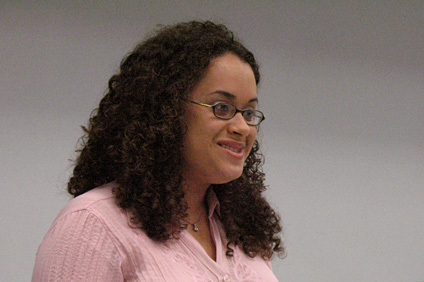 Mechanical Engineering Student, Nayomi Z. Plaza Rodríguez, also thanked Boeing for its contribution.
Photographs by Mariam Ludim Rosa Vélez / UPRM Press