Friday, October 24th 2008 [ versión español ]


| | |
| --- | --- |
| | |
| | UPRM athletes are on their way, in their respective sports, to a great season in the LAI. |
| | |
After entering into the culminating part of their respective seasons, the Tarzans and the Janes of the University of Puerto Rico at Mayagüez (UPRM) walk arduously on the path to what could be an enchanting season in LAI competition.

In Soccer, the Tarzans continue with their pace intact after defeating the Caribbean University 10-0. The soccer team, trained by Abner Rodríguez, doesn't know what it means to loose. They will play host to the UPR Arecibo Wolves next Saturday, October 25 at 3:00 p.m. at the UPRM soccer field.

In tennis, the Tarzans scratch out a victory against UPR Humacao, after winning comfortably 5-0. They will face off against UPR Río Piedras at Ramey Base in Aguadilla, this upcoming Saturday, October 25 at 10:00 a.m.

On the women's side of tennis, the Janes suffered defeat in a battle to the end match against UPR Humacao, which finished with a score of 3-2. Just as the men's side, the women are set to take on the UPR Río Piedras Jerezians Saturday, October 25 at 10:00 a.m.

On the diamond, the Tarzans split honors with the Interamerican University tallying their record at 8-2 for the season. The first game of the double header went to the Tigers 6-0, while in the second game the Tarzans comfortably dominated their opponents from San German, 8-2. The UPRM baseball team will close the season out this Friday, October 24, against the UPR Arecibo Wolves in the Maní Park at 11:00 a.m.

Onto Volleyball, the Tarzans fell to defeat in their first meeting with the Poly-technical University in four sets 16-25,25-18,18-25,18-25. Closing the season out, they will travel to Sacred Heart University to take on the Dolphins in their second meeting of the season. The women's team, the Janes will also visit the Sacred Heart University Dolphins for a game set to take place Thursday, October 23 at 6:30 p.m.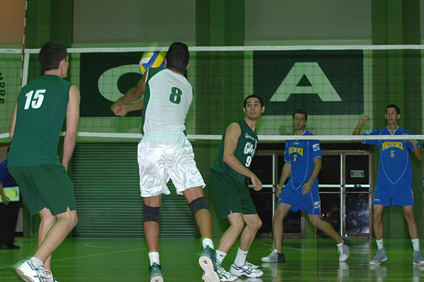 The Tarzans of the volleyball team faced off with the Poly-technical University this week.

Both the Janes and the Tarzans of volleyball are set to take on the Sacred Heart University Dolphins.
Photographs by Carloz Díaz / UPRM Press