wednesday, november 26, 2008 [ spanish version ]
| | |
| --- | --- |
| | |
| | Doctor Suzanne Brainard, of Washington University, is the mentor for the program, Advance, at UPRM. |
The female presence at the University of Puerto Rico at Mayagüez (UPRM) has always been noticeable; it is enough to point out that of the 13,324 students enrolled in UPRM for the first semester of this academic year, 6,519 are females. Not withstanding, the number of female students and professors in the Departments of Science, Mathematics, and Engineering is not equally proportioned.

This statistic motivated a group of researchers to initiate a project that, among other goals, sets to examine the barriers confronted by these young students when pursuing a teaching career in these disciplines.

Doctors Mildred Chaparro, Dean of Academic Affairs; Sonia Bartolomei, from Industrial Engineering; Luisa Guillemard, from Social Sciences; Astrid Cruz Pol and Marisol Vera, from Chemistry, and Antonio González Quevedo, Director of the Institutional Research and Planning Office, make up the research team that intends to increase female participation in academic careers in the areas of science, mathematics, and engineering, and at the same time develop a more diverse labor force in these areas.

In order to achieve these goals the group will receive a subsidy of $198 thousand, invested by the National Science Foundation to begin the first phase of the Institutional Program for Progress, Advance.

"If we look at the figures, the number of female students at our Campus is high. However, when we look at the professors, we encounter that the number of female professors is low in many of these disciplines, and in some of them below the national level," revealed Doctor Chaparro, who is the principal investigator for the project.

The Dean explained that the first stage of the project contemplates the revision of institutional politics, and the identification of barriers that make it difficult for students to pursue a career as professors.

"The literature tells us that there are many intervening factors. We want to establish which factors are present at this Campus, to determine the institutional environment, to see how professors feel, how students feel, and which factors can be attributed to the lack of inspiration in this high number of female students in pursuing academic careers as university professors."

This effort stems from the concern of one of the project's researchers, Doctor Bartolomei, who noted the disproportionate number between female students and professors of some of the departments in the College of Engineering at UPRM.

"My inspiration to work on this project came about two or three years ago. I ran a summer camp for girls in seventh and eighth grade to try and get them to consider careers in engineering. Through this camp, I got involved with an organization called "Women in Engineering Program Advocates Network," where I learned of our position, with respect to the number of women teaching in Engineering, and I leaned about the existence of the Advance program," reported Bartolomei.

Bartolomei added that in this particular case, the Department of Industrial Engineering, of which she is a member, has a composition that is 54 percent female, which serves as a good example for young female students. However, the same doesn't hold true for the Departments of Mechanical Engineering, Electric and Computer Engineering, and Civil Engineering, she explained.

Verify that your navegator can ejecutate javascript and that has the most recent version of Adobe Flash Player.

Dowmload Flash Player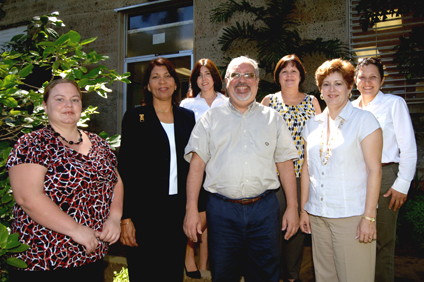 Members of the Advance research team are: (from left to right) Linda Marrero, Administrative Assistant of the project, Doctors Mildred Chaparro, Astrid Cruz Pol, Antonio González Quevedo, Luisa Guillemard, Marisol Vera, and Sonia Bartolomei.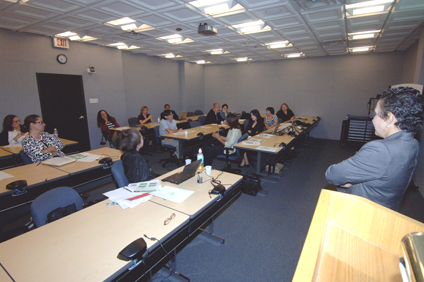 The group began their agenda with a forum to explore the sentiments of the UPRM faculty.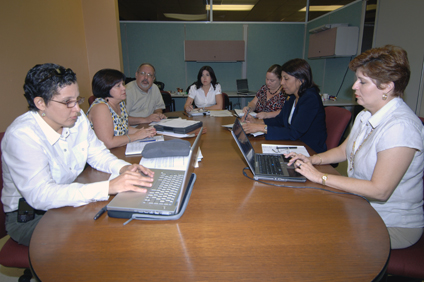 The project intends to increase women's participation in academic careers in the areas of math, science and engineering.
Fotos por Carlos Díaz / Prensa RUM