Friday, December 5, 2008 [ spanish version ]
| | |
| --- | --- |
| | |
| | Doctor Alexandra Medina Borja received the award Goodeve Medal 2007, at a ceremony that recently took place in England. |
Doctor Alexandra Medina Borja, associate professor of the Industrial Engineering Department of the University of Puerto Rico at Mayagüez (UPRM), received the award Goodeve Medal 2007, at a ceremony that took place recently in England. The Operations and Research Society bestowed this recognition upon her for her project, which utilizes a mathematical model to resolve world problems.

More than just a competition, doctor Medina was surprised when awarded with the medal, due to the fact that receiving the award is the result of a publication submitted to the Journal of the Operational Research Society, which was based on her doctoral dissertation. Her project was entitled, Large-Scale Data Envelopment Analysis (DEA) Implementation: A Strategic Performance Management Approach. On the project she collaborated with two other professors from Virginia Tech and the University of Missouri, in the United States.

As it was explained by Medina, the Journal of the Operational Research Society is one of the three most prestigious academic journals in Europe. During the year, it accumulates various publications in relation to the area of Operations Research. The team of experts that evaluate these works awards the Goodeve Medal of the year that corresponds to the investigation that best contributes to the theory and practice of this discipline, in the world.

Operations Research is one of the areas in which a large number of the projects carried out in the industry are based; this allows the maximization of results of the companies that employ scientific methods.
| | |
| --- | --- |
| | |
| Medina received the award for her publication in the Journal of the Operational Research Society. | |
"Before working as a professor at UPRM, I worked for the American Red Cross. They adopted the project on which I based my doctoral dissertation, since it allowed them to measure the performance of the distinct chapters of the association. The results that were compiled by the model I designed, were part of the report received by the managers of each chapter and in them symbols were included that could be easily interpreted," explained Medina.

Equally, she added that it's not very common that an entity without means of profit and with a humanitarian approach, decide to measure the performance based on a mathematical model. Currently, big companies such as Disney, FedEx, and UPS among others, employ these types of strategies to measure their effectiveness. In the case of the American Red Cross, adapting the model was successful, since the management understood and adapted the results that were obtained.

Among scientific dictations from throughout the world, doctor Medina Borja received the prize bestowed by the Royal Society of Science. "This is a good opportunity to bring to light of the excellence of the Engineering faculty at UPRM, to the world," concluded the professor. Congratulations!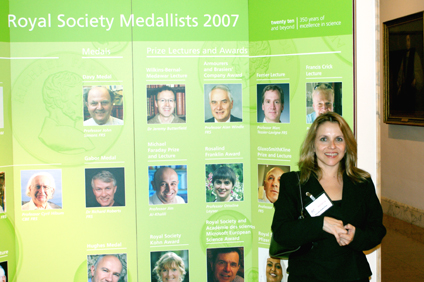 Her project was chosen as the best contribution to the theory and practice of Operations Research, in the world. In the background, a painting of the scientist, Isaac Newton can be observed.
Courtesy photos