Friday, January 30th 2009 [ versión español ]

"The proudest father you could possibly have in Puerto Rico is right in front of you."

This statement was expressed by Ramón Barrientos, who traveled from his hometown of Carolina, to Mayagüez (the Sultana of the West) last January 24, 2009, to bear witness to the award bestowed upon his son Christian Barrientos, a first year Computer Engineering student at the University of Puerto Rico at Mayagüez (UPRM). The award was given by the company Lockheed Martin.

Along with Christian, 19 other UPRM students were awarded by the company, which is part of a select group of strategic associates of UPRM, and attended a banquette acknowledging their achievements. The event took place at the Mayagüez Resort where the students were honored with their happy and proud families beside them.

There were a total of 20 students recognized; among these students, 15 are from the Departments of Mechanical Engineering, Electrical Engineering, and Computer Engineering, while the remaining five are from the Science Computer Program of Program of the Arts and Sciences College. These students were awarded for their academic performances which were reflected through their grade point average (GPA) during their first year as UPRM students.

The ingenuity of those who were classified as the best five teams who will be competing in engineering design from UPRM were also acknowledged at the banquet. Just as the first year students, members that make up the teams: RUMblebots, AeroDesign, Fórmula SAE, Minds2CREATE, and Skyhawk, received their awards from the hands of the Vice President of Lockheed Martin, Joe Petrone; UPRM chancellor, doctor Jorge Iván Vélez Arocho; and the dean of Engineering, doctor Ramón Vásquez.

In fact, the executive from Lockheed Martin praised the quality and the dedication of these UPRM students and those aforementioned competing teams.

"This evening we recognize 20 students, who have demonstrated promise and success. We also recognize their families and the five teams who will compete in engineering design. My colleagues from Lockheed Martin and I are honored to have the opportunity to contribute to the professional development of engineers and scientists of the future," stated Petrone.

Vélez Arocho expressed that, "UPRM is what it is, and will become what it becomes in the future because of its students."

He added, "Those who are new and those that form part of the design teams represent the best of our students."

The dean of Engineering, doctor Ramón Vásquez, as well as the director of the UPRM Coop Program of Engineering, Ellen Ríos de Acarón, thanked the company for being part of the strategic associates of UPRM.

"It's a privilege for us that these companies get involved and help the students," expressed Ríos de Acarón, who was recognized for her work on behalf of the students, as well as the director of Financial Aid, Annie Rodríguez. The Director of the Coop Program added that the award given to the students is an incentive to triumph in their studies.

Sheyla Alfau, first year student of Mechanical Engineering said that she would feel, "very proud," of her award. "Honestly it is motivation to keep studying what I want, because I am planning to obtain my bachelor's degree in Mechanical Engineering and my master's degree in aerospacial," she explained.

The award consisted of a $1,000 scholarship for each of the 20 students and each competing team received $2,000.

During the ceremony, executives from the company awarded a symbolic check to the Chancellor and the Dean for the sum of $94,000, a figure that sums up the contributions of the company throughout the current academic year, directed exclusively for student initiatives.

Lockheed Martin is a multinational company and leader in aerospacial technological innovation.

Students Recognized:

Computer Sciences
Kenneth Burgos
Jorge Lithgow
Peter Rodríguez
Norberto Muñiz
Juan C. Sanabria

Mechanical Engineering
Sheyla Alfau
Joshua Aponte
Keysha Camps
Nelcie Colón
Jean Carlo Colón

Electrical Engineering
Willmarie Caraballo
Sharimar Colón
José E. Cáceres
Melanie Jiménez
Rubén Jaca

Computer Engineering
Yatsirie Acevedo
Christian Barrientos
Orlando Camacho
Krystal Calero
Alexaida Collet

Verify that your navegator can ejecutate javascript and that has the most recent version of Adobe Flash Player.

Dowmload Flash Player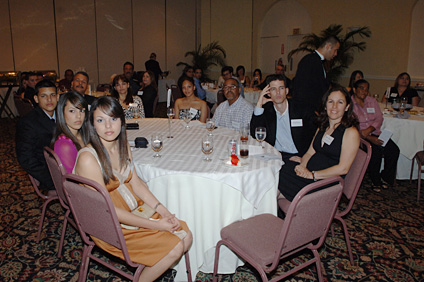 The students being honored were accompanied by their families.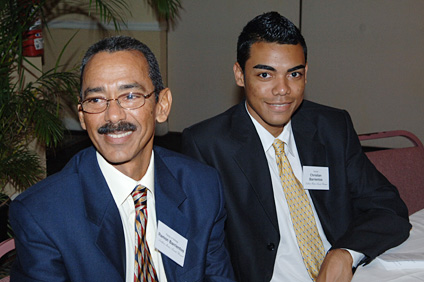 Ramón Barrientos traveled from Carolina to see his son, Christian Barrientos, of Computer Engineering, receive his award.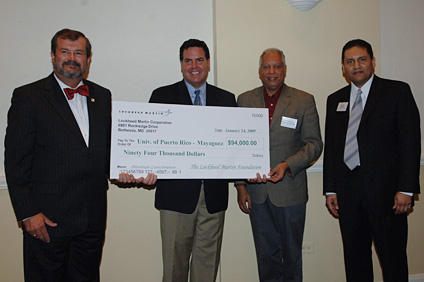 UPRM chancellor, doctor Jorge Iván Vélez Arocho, receives a symbolic check from the Lockheed Martin Vice President, Joe Petrone, for the sum of the contribution by the company for student initiatives. He is accompanied by the dean of Engineering, doctor Ramón Vásquez and Mauricio Guadamuz, also from Lockheed Martin.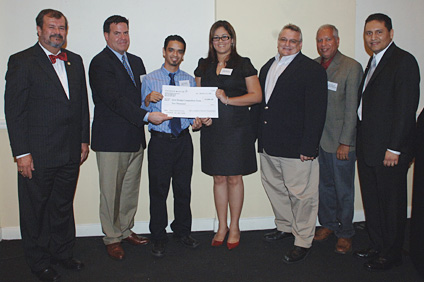 The AreoDesign team receives its award for being classified as one of the best in competition for UPRM.
Photos by Carlos Díaz / UPRM Press
[View] Photo Gallery of the award ceremony at the Mayagüez Resort