Friday, February 6th 2009 [ versión español ]

Rainwaters claim their natural paths to streams and rivers, and take whatever is in their path with them. That includes trash, engine oil, and sediment among many other elements. With the intention of protecting these bodies of water, the University of Puerto Rico at Mayagüez (UPRM) is in the process of implanting and making known the Plan of Management of Runoff Waters or rainwaters.

Engineer Wilson Ortiz, of Buildings and Grounds, is the coordinator for the project, which purpose is to reduce the discharge of waste that reaches these bodies of water close to Campus and, hence, reach other bodies of water in the West such as the Yagüez River and the Mayagüez Bay.

According to Ortiz, this contamination is generated through different sources such as the work areas in which mechanics fulfill their duties, laboratories, oil and gas spills from automobiles arriving to the University, paint from buildings and even leaves and grass that are not collected after trimming an area.

"We are currently in the phase of spreading information about what occurs, so that the university community realizes how they can help chip in to solve the problem," said Ortiz, who mentioned that they will soon be offering advice and preventive methods through videos and electronic notifications.

The effort, which is currently in its second of five years estimated for completion, in its first stage, identified the areas that need attention and the possible solutions, many of which have already been put into action.

The project has also included the collaboration of two UPRM components: the Institute of Investigations on Environmental and Water Resources in Puerto Rico, under the supervision of doctor Jorge Rivera Santos; and the Office of Health and Security, under the direction of Roberto Torres Martínez.

They have also integrated the students in Civil Engineering, who through some of their academic courses are taking in data from the field and creating maps of the rainwater ducts. This information has been crucial in the process, assured Rivera Santos, because it's needed for the programming of the mathematic models that the Institute of Water develops to analyze the runoffs at the University and the way in which it transports the contaminants.

"Our participation is directed to the technical part, in which we have to analyze, in a scientific manner, how the runoff waters travel to their points of unloading. In this case, the primary body that we are trying to protect is Quebrada de Oro (Golden Stream)," specified the scientist.

The Plan of Runoff Waters responds to the requirements of the Clean Water Act of the Environmental Protection Agency (EPA). This organization grants a permit that regulates and prohibits that certain types of contaminants enter into contact or are dragged into the runoff rainwaters and are then discharged into other bodies of water.

"This is extremely important because water is life and if we contaminate these waters we are ending life, not only aquatic life or the ecosystem's life but our own lives as part of these ecosystems," Rivera Santos explained.

The program consists of six basic tasks: extended public participation; an educational program; the identification and elimination of illegal waste; control of runoff waters in construction and in existent structures; as well as the prevention of contamination and good practices of order and cleanliness.

One of the components that has been given a large amount of attention is the plan of control of erosion and sedimentation that is produced as a consequence of construction projects at UPRM.

"Because it is necessary to prepare the surface for construction, they remove the topsoil and this provokes large quantities of sediment to be deposited in the stream," explained Ortiz.

He added that as a means to counteract this, they clean out the stream two times a year and use the sediment to create compost at the Alzamora Farm. They also offer workshops to project contractors, in which they observe some methods to control this process such as plastic barriers that collect sediment at the fences to avoid erosion.

Ortiz said that there are simple actions that all persons at UPRM can carry out such as not throwing trash on the ground no matter how small or insignificant it seems to be and cleaning up oil leaks from cars. At their homes, people should cover their trash cans and collect grass clippings after mowing the lawn.

"It's very important that UPRM develop this plan and put it into action so that we, as an institution that is generating science and developing technology, are an example for the community in the protection of the environment. We want to make our students aware so that when they leave here they proclaim control and care for the environment," emphasized the Director of the Institute of Water.

For more information about the Plan of Management of Runoff Waters, visit the following webpage http://www.uprm.edu/manejodeaguas.

Verify that your navegator can ejecutate javascript and that has the most recent version of Adobe Flash Player.

Dowmload Flash Player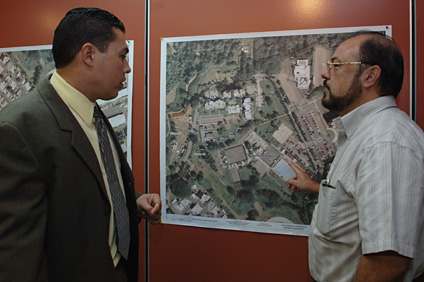 Engineer Wilson Ortiz and doctor Jorge Rivera Santos take a look at the campus map with the rainwater ducts.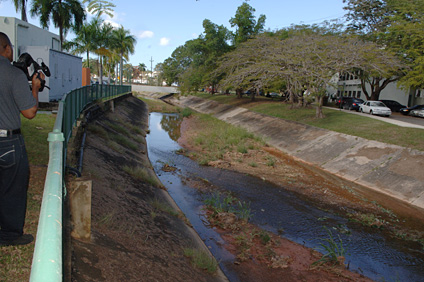 The program includes a plan to control sedimentation, as the one captured in this image of the stream.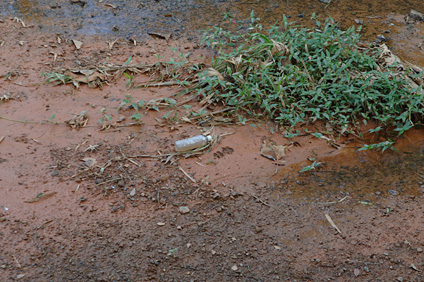 The Plan of Management of Runoff Waters' purpose is to reduce the discharge of waste that reaches the bodies of water close to Campus.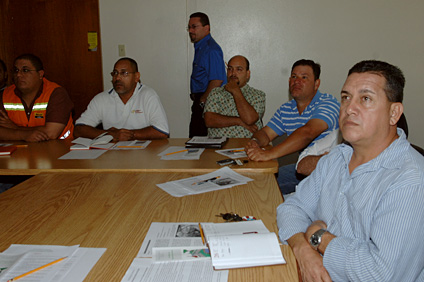 As a means to counteract erosion from the construction projects, the program offers workshops to project contractors.
Photos by Carlos Díaz / UPRM Press