Friday, March 13th 2009 [ versión español ]

It was a very active Tuesday morning; over the weekend 17 calves were born. On the farm, the workers were very enthusiastically gathering up the young, weighing them, taking blood samples and adding them to the herd's registry.

Meanwhile, the newborns' mothers were restless due to the temporary separation from their young. As soon as the calves were returned to the field they ran at full speed to greet them. Afterwards, they situated themselves in close positions to watch over their offspring.

The young were born at Finca Montaña in Aguadilla, part of the Experimental Substation of Isabela, of the College of Agricultural Sciences (CCA by its Spanish acronym) of the University of Puerto Rico at Mayagüez (UPRM).

The reddish calves are evidence of their lineage: Senepol, a race used for beef production that belongs to the genus and species Bos Taurus, originally from Saint Croix, United States Virgin Islands (USVI).

Among the attributes of this type of livestock are their adaptability to the tropics, their passive nature, the absence of horns and their well developed maternal instincts. These attributes were what drew the CCA to obtain these animals for study and expansion.


Arrival to Puerto Rico

Why not do research on this type of livestock to see the possibilities it may hold for the Puerto Rican industry? This was the request that the Dean of Agricultural Sciences, Doctor Alejandro Ayala, made at the beginning of the 1980's to the Doctor Danilo Cianzio-Mujica, professor of the Department of Animal Industry and person in charge of Finca Montaña since 1999.

Ayala had visited the University of the Virgin Islands in Saint Croix where the characteristics of this race caught his attention, according to an interview in La Gaceta Colegial.

"I got in touch with the people from Saint Croix, traveled there several times, and observed the work they were doing with the cattle and saw that the breed had many positive aspects," said Cianzio-Mujica.

That is how they decided to import the Senepol livestock to Puerto Rico. However, restrictions of the United States Department of Agriculture (USDA) did not allow direct import from Saint Croix.

"The Senepol livestock was introduced for the first time to the Puerto Rican archipelago in 1983 by the College of Agriculture. We imported two one-year old bulls, and four heifers from Mint Spring Farms in Kentucky," he explained.

He added that the animals were located at the Lajas Substation with the intention to study the Senepol in depth. "That is how our journey began, the idea was to evaluate the breed, observe it, examine its behavior and cross it with others beef races," said Cianzio-Mujica.

In 1984 the CCA became member number 55 of the Senepol Association of the Saint Croix USVI, an entity that promotes the maintenance of high quality standards for the breed. Later, in 1988 they managed to import 16 heifers directly from the Hacienda Granard Estates in Saint Croix. By this time the USDA restrictions were no longer in place.

In the same year, Cianzio-Mujica moved the Senepol herd to Finca Montaña, a land with 1064 acres, 500 of which are pasture used for grazing cattle. Today, 26 years later, there are more than 150 heads of pure Senepol and the work to evaluate different ways to make the breed more productive continues.

"We intensively select animals to improve their genetics. The Agronomist, Luis Añeses, in charge of everyday field work operations, has taken upon this task with great enthusiasm…"We are improving genetic and management of the breed and have increased production levels and indexes," confirmed Cianzio-Mujica.

Añeses indicated that genetic improvement is based on the information compiled on the livestock raised at Montaña. The Senepol Association keeps a data base on the characteristics of all registered animals.

"We select the animals that remain in the herd for breeding purposes. In addition, we buy animals from registered purebred bulls from Saint Croix and also import livestock from other farms in the United States to increase genetic variability of the herd," explained Añeses, research assistant that works at Finca Montaña.


A New Challenge

With the rise in tourism development and the construction of hotels, as well as golf courses in Saint Croix, agricultural lands have significantly diminished in the neighboring Caribbean Island, as explained by Cianzio-Mujica.

In the 1980's there were more than 20 Senepol livestock herds in existence in Saint Croix, today only two herds remain: one at the Annaly Farms Senepol and the other belonging to the University of the Virgin Islands.

According to Cianzio-Mujica, this new reality presents a great responsibility for the UPRM College of Agricultural Sciences related to improvement and preservation of the breed.

"When the UPRM introduced the Senepol to Puerto Rico, responsibility to improve the race came along with it. And without looking for it, and now that the cattle operations in Saint Croix are disappearing, the work at the UPRM has acquired a new dimension and responsibility. We never thought before that we would play the role that we now have. We have evolved our focus into one of protection and preservation of the Senepol breed in the East Caribbean," said Cianzio-Mujica.

Doctor John Fernández-Van Cleve, Dean of the CCA, agreed and assured that this is part of the research mission of the College that he directs. "Our responsibility is maintaining the genotype. We have a base population of animals that enables us to maintain the breed and continue looking for alternatives with it… "With the production reduction in Saint Croix, the place where the breed originated, it makes us an important source for this genotype to the rest of the world," expressed Fernández-Van Cleve.

In fact, Finca Montaña receives constant and numerous visits from local cattlemen as well as their peers in Florida, Venezuela, Colombia, and Central America.

On the other hand, the UPRM's mission with the Senepol herd increases with studies carried on by Doctor Melvin Pagán-Morales, who analyzes the polymorphism of molecularly marked genes in the breed's genome.

Pagán-Morales will present the first results of this research in the next annual meeting of the Senepol Association, that will take place June 2009 in Saint Croix.


Historical Ties

Even though Senepol was first introduced to Puerto Rico in the 1980's by the UPRM, ties of the Institution with cattlemen in Saint Croix dates back to the 1950's.

Historical correspondence acquired by La Gaceta Colegial documents communication between Doctor Carlos Gaztambide Arrillaga, of the College of Agriculture and Mechanical Arts of Mayagüez, and Fritz Lawaets of Annaly Estates in Saint Croix.

The letters, reproduced by Hans Lawaets, Fritz's son, are evidence of the College collaboration in the genetic improvement of the race that had been developed in 1900 by Henry C. Nelthropp, as a product of the cross between the Red Poll and N'Dama breeds.

In the letter dated March 26, 1951, Gaztambide Arrillaga expresses to Lawaets's father, his interest in meeting Nelthropp with the intention of learning about his strategy for the improvement of the race and prepare an adapted plan to the necessities of Annaly Estates.

"I have outlined a tentative breeding plan which might be adaptable to the Nelthropp type. I plan to discuss it with you, after we study the complete situation…You realize that this is a 10-30 year program which requires a practical man at the wheel. I believe that you can execute it," says an excerpt from the letter by Gaztambide Arrillaga to Lawaets's father.

Contributions by both gentlemen to the development and genetic improvement of the race was recently recognized in the second edition of the book Breeds of Cattle, published in 2008, according to a letter addressed to UPRM Chancellor Jorge I. Vélez Arocho written by Hans Lawaets.

"In this book it is the first time that Fritz E. Lawaets and Doctor Gaztambide names are mentioned as an important part of developing of the Senepol cattle as a recognized new breed," sustained Lawaets's son, current President of Annaly Farms and of the Senepol Association.


Looking to the Future

Currently at Finca Montaña the Beef Cattle Project is experimenting with genetic crosses between the Charolais breed, a beef producing race of French lineage and the Senepol breed. There are 14 bulls, 10 are pure Senepols and 4 Charolais, imported from Alabama.

"Over the years we have made progress in terms of production indexes. From the 235 cows that were exposed to bulls in 2008, there was a 91.5% pregnancy rate. These cows are calving now," said Cianzio-Mujica. La Gaceta Colegial witnessed one of the births.

However, in addition to improve the productive levels, the idea is to develop a Puerto Rican breed of beef cattle, probably a composite breed in which Senepol would be one of the component members. Accomplishing this will require decades of research, mentions professor Cianzio-Mujica, who is planning to retire soon and hopes to set the foundation for this future work.

"We are working on the possibility of generating a Puerto Rican race, of which the Senepol will also be part of it."

He added these efforts will be entrusted and pass on to the group that works in beef cattle at the Department of Animal Industry, of which Professor Américo Casas and Professor Aixa Rivera-Serrano, Agronomist Añeses and Biotechnologist Doctor Pagán Morales are members. Doctor Guillermo Ortiz and Doctor Esbal Jiménez will join efforts and also collaborate on the project. Workers on the farm led by Juan Román Mercado also are noted for their efforts, and are part of this work.

"The future looks promising. This group effort makes up a proposal recently presented to the UPRM Chancellor for the creation of the Center of Biotechnology and Animal Reproduction at Finca Montaña. The Center would open unsuspected frontiers for the Senepol breed as well as the livestock industry in Puerto Rico and the Caribbean," concluded Cianzio-Mujica.

Verify that your navegator can ejecutate javascript and that has the most recent version of Adobe Flash Player.

Dowmload Flash Player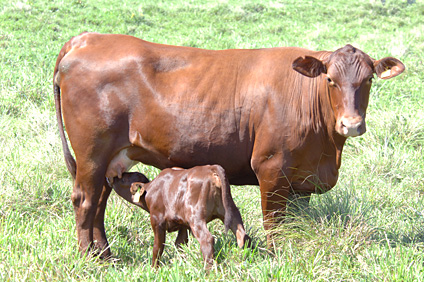 The Senepol cattle was first introduced to Puerto Rico in 1983 by the College of Agricultural Sciences of the University of Puerto Rico at Mayagüez.

Doctor Danilo Cianzio-Mujica, professor at the Department of Animal Industry has been in charge of the Finca Montaña since1999.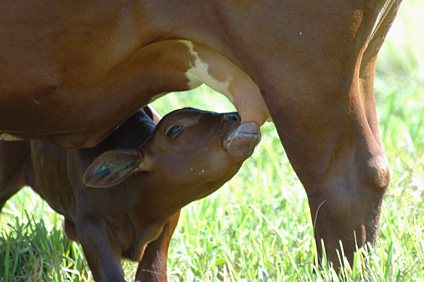 Some of the attributes of the Senepol race are: adaptability to the tropics, passive nature, absence of horns and well developed maternal instincts.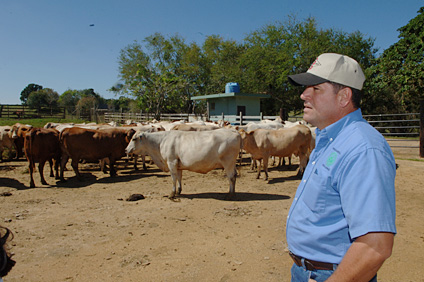 Agronomist Luis Añeses, research assistant who works at Finca Montaña, is in charge of the everyday field breeding operation.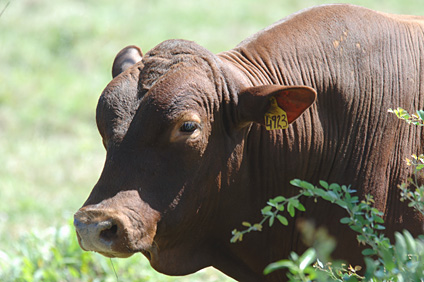 At Finca Montaña there are 14 bulls, 10 of which are pure Senepol.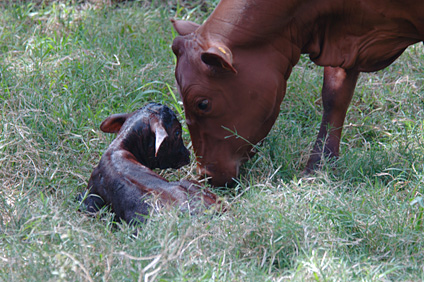 The months of February through April are very busy at Finca Montaña; the majority of the cows are set to give birth. In the picture, a calf a few minutes after birth is shown.
Photographs by Carlos Díaz / UPRM Press