Friday, March 27th 2009 [ versión español ]


| | |
| --- | --- |
| | |
| | The UPRM Campus was the scene for the third meeting that took place between members of the CIAPR and the faculty and students of UPRM. |
| | |
The third meeting between the University of Puerto Rico at Mayagüez (UPRM) and the College of Engineers and Surveyors of Puerto Rico (CIAPR by its Spanish acronym) took place during the current month, March, with the goal of strengthening professional ties between both institutions for the benefit of students in Engineering and Surveying.

Engineer Antonio Medina, president of CIAPR, confirmed this objective, when he sustained that this event, "has the firm goal that the department makes a commitment with us and us with them and also to work closely, in teams, for the improvement of each of you, the students."

On the other hand, UPRM chancellor, doctor Jorge Iván Vélez Arocho, signaled during his welcoming speech that the meeting was a fundamental activity to help students understand the importance of the collaboration for the practices of engineering and surveying.

The Government Council and various members of the CIAPR, as well as members of the UPRM faculty, participated in the activity, which took place on the UPRM campus, and had the opportunity to interact with the students through information tables located in each department of the UPRM College of Engineering. Also, students were able to obtain information about each of the CIAPR institutes and the Department of Professional Development and Continuing Education of the aforementioned entity.

"It's very important to hold this kind of activity, it gives us a sense of what it is to be an engineer," commented Gabriel González, president of the Student Council of Engineering of UPRM. Students of the aforementioned Engineering programs from the University of Puerto Rico campuses of Bayamón, Cayey, Humacao, Arecibo, Ponce, Carolina, and Río Piedras also attended the activity.

During the activity three plenary conferences were offered, they had these three themes: laws that regulate engineering and surveying practices in Puerto Rico, ethics, and the benefits of memberships in both professions.

Finally, the meeting was the scene for a professional seminar on jobs of measurement and the existence of rights of way at Bunker San Jerónimo, loacated at Puerta de Tierra. Professor Linda Vélez, of the UPRM Department of Civil Engineering, was in charge of this seminar.

Verify that your navegator can ejecutate javascript and that has the most recent version of Adobe Flash Player.

Dowmload Flash Player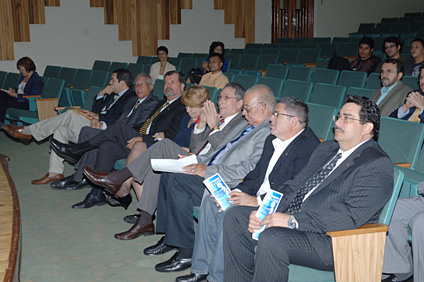 Engineer, Antonio Medina, president of CIAPR, notes that it is the students who benefit from activities like these.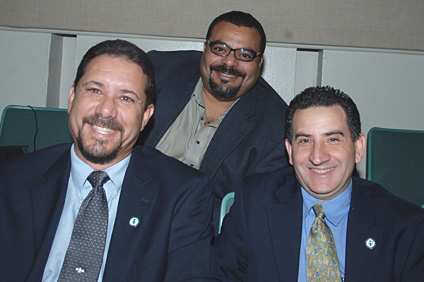 The purpose of the activity was to strengthen professional ties between these two institutions.

Members of the CIAPR, as well as UPRM faculty members, had the opportunity to familiarize the students with different themes in the professions of Engineering and Surveying.
Photographs by Carlos Díaz / UPRM Press