Friday, May 8th, 2009 [ versión español ]

A demonstration of solidarity occurred at the University of Puerto Rico at Mayagüez (UPRM), which for the third occasion was the host for the Relay for Life; where 24 hours of effort and continuous celebration by hundreds of people committed to the fight against cancer took place.

This activity first began in 1985, and since then has managed to unite efforts to raise cancer awareness and raising funds for research, education and patient service programs.

The event, which was coordinated by the western division of the American Cancer Society, took place at UPRM's synthetic track with the slogan, Celebrating Life and received the participation of non-profit commercial entities and members of the UPRM community that have joined in this effort.

One of the persons who received special recognition was Milton Carrero Galarza, youth symbol for Relay for Life 2009, who works as the press official for the University of Puerto Rico's Sea Grant Program, with its base at UPRM.

"My role in the event is a blessing, and at the same time a responsibility because I know I am representing many people who have fought this battle with dignity. Some have died and others are still alive but, aside from what has happened, everyone who goes through this experience learns to love life and in this way they always win," commented Carrero, who was accompanied by his parents.

María Ivette Rodríguez Marty, Auxiliary of Accounting of the UPRM Office of Pre-intervention, was chosen as Mrs. Relay for Life 2009. This title was given to Rodríguez Marty because, in the evaluation committee's judgment, she met the necessary requirements for the position, which included voluntary work and the social commitment in the fight against cancer.

After the opening parade, the UPRM chancellor, Jorge Iván Vélez Arocho, gave the welcoming speech to the hundreds of people who had gathered to walk in solidarity for the fight against cancer.

"Truly, for the University community, for all the students, its non-teaching personnel, the faculty and friends of this institution, it's an honor and a privilege that you are all here, at home. This activity celebrates life and it's for all the people who face this terrible illness and have said that they believe in life, it's for them that we are here," commented the Chancellor after opening the door to the possibility that UPRM could be the host for Relay for Life 2010.

Some of the members of the American Cancer Society indicated that since its first participation in 2004, the University community has been the standard for significant awareness that has managed to awaken the enthusiasm of the western region with the spirit of hope and triumph that is Relay for Life.

"It has been a time of celebration in which teams from different sections of the community were present, willing to seek the necessary donations which have converted into direct services for cancer patients. We are grateful to UPRM for allowing us to utilize their facilities for this noble cause," said Juan Carlos Mejías Muñiz, executive director of the American Cancer Society, Western Division, who noted that this year the event outcome is particularly striking because it is during a time of economic crisis for the Country.

Mildred Carrero, national director of Relay for Life, noted the reception that the event has had in the western community, particularly at UPRM, where the value of education is emphasized.

"Every participant has placed a grain of sand in finding the cure for this illness. It's important to continue fighting and researching. It's because of this that every dollar, every cent, will be donated to scientific research that way a more radical alternative can be found to fight this illness," she said.

Relay for Life 2009 at UPRM was able to raise close to $278 thousand and invited the community to participate in the elaboration of a cancer study named CPS3 that seeks to understand the genetic and environmental factors that cause cancer and also that prevent it.

Those interested must be between the ages of 30 and 60 and have not been diagnosed with cancer and are willing to fill out forms every two years. For more information on this study please contact 1-866-604-5888 or access the webpage at www.cancer.org/cps.

Verify that your navegator can ejecutate javascript and that has the most recent version of Adobe Flash Player.

Dowmload Flash Player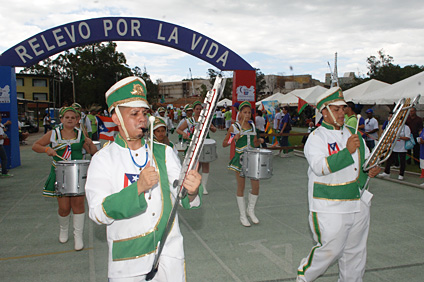 Relay for Life began with the traditional parade of participating groups.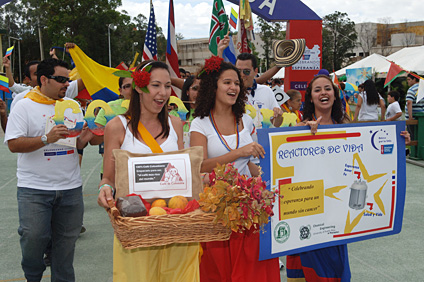 Various UPRM groups joined the effort, in which this year was dedicated to the fight against cancer around the world.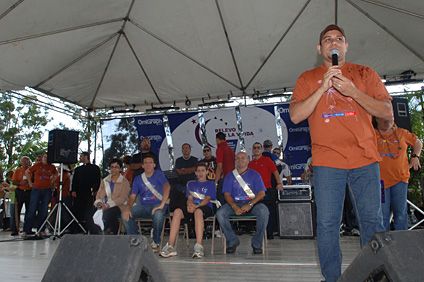 Juan Carlos Mejías, of the American Cancer Society, greets the public. Seated, from left to right: Eneida Serra, Milton Carrero, Juan Diego Ramírez de Arellano and Ángel Cintrón.
| | | |
| --- | --- | --- |
| | | |
| María Ivette Rodríguez Marty was elected Mrs. Relay for Life 2009. | | Teams used their creativity in the parade to demonstrate their commitment to the fight against cancer. |
Photographs by Carlos Díaz / UPRM Press
More Multimedia
[Click] Relay for Life 2009 Photo Gallery