Friday, May 29th, 2009 [ versión español ]

What began eight decades ago with the intention of creating better graduates in the disciplines of Computer and Electrical Engineering has transformed into an educational mission that now encompasses a research component, serving both Puerto Rico and the world.

It's about the Department of Computer and Electrical Engineering (INEL/ICOM) of the University of Puerto Rico at Mayagüez (UPRM), which celebrated its 80th anniversary during this current academic year, and which immersed itself in the educational commitment for which it was created. To this was added societal contribution with important advances in the areas of telecommunications, renewable energy, electronics, and computers.

This was affirmed by UPRM chancellor, doctor Jorge Iván Vélez Arocho, as well as faculty members, and students at the press conference that recently took place to highlight the achievements of this Department during this century and the previous, by means of its graduates.

"Puerto Rico's development is narrowly associated with the development of UPRM. The 80th anniversary of the Department of Computer and Electrical Engineering is a great example of this institution important contribution to the Country, Latin America, and to the Caribbean. The vision, leadership, and the contributions of the faculty in this department have contributed effectively placing UPRM in the excellent position that it occupies today," commented Vélez Arocho.

The bachelor's program in Electrical Engineering began in 1928 and Computer Engineering in 1980. Both are in first place in Puerto Rico in terms of the number of graduates. In this same category, at the level of the United States, INEL holds the ninth position, meanwhile ICOM comes in at number 17. Master's degrees were offered beginning in 1967, for INEL and ICOM in 1995.

Also, to maintain the high quality of the undergraduate academic offer, this past year the Department completed a renovation of the educational laboratories, project with an investment of $1.4 million.

The doctoral program in science and informational computer engineering in informatics began in 2001 and they are hoping to formally offer a doctorate degree in INEL in 2010.

Academic programs at the undergraduate levels in the College of INEL/ICOM are accredited by ABET, accreditation agency of engineering programs in the United States.


Research and Faculty of Higher Quality

"The large relevance that it has goes in terms of the future of Puerto Rico. All of the products of nanotechnology, of renewable energy, and others, all are tied to the Department," said the director of INEL/ICOM, doctor Isidoro Couvertier Reyes. He added that more than preparing future engineers with all of the technical, social skills and ethics necessary, this college provides research of the highest quality, locally and internationally recognized.

Among these, is the CASA (Collaborative Adaptive Sensing of the Atmosphere) Project whose principal researcher is doctor Sandra Cruz Pol, and whose objective is to help meteorologists sample the lower atmosphere with a network of radars that operate in an adaptive form. Cruz Pol also is the coordinator for Green Campus, effort by students, professors and UPRM employees to create awareness about the importance of living in harmony with the environment.

Another relevant research project is the one carried out by a team of professors and students under the direction of doctor Miguel Vélez Reyes at the Center Subsurface of Sensing and Imaging Systems (CenSSIS) for developing technology of perception and capturing images of objects or conditions that are embedded in the earth, the water or in the human body. The CenSSIS group focuses on spectroscopic technology of images with biomedical applications and coastal environment studies.

On the other hand, Vélez Reyes utilizes this same spectroscopic technology along with doctor Nayda Santiago on the ALERT (Awareness and Localization of Explosives-Related Threats) Project which sets out to create explosive threat detection systems in luggage, vehicles, and in airports in real time. ALERT is sponsored by the Program for Centers of Excellence of the Department of National Security of the United States and, also, in collaboration with Northeastern University.

Another initiative is NetTraveler, led by doctor Manuel Rodríguez, who works with students in the development of a proposal that integrates an internet database with mobile devices. NetTraveler utilizes the technology of network services to channel user orders in a decentralized and automatic form.

The research of the professors of INEL/ICOM also include solid efforts to raise the number of female professors in Computer and Electrical Engineering similar to FemProf, by doctors Néstor Rodríguez, Nayda Santiago, and Omayra Ducoudray. Meanwhile along with CASHI (Computing Alliance for Hispanic Serving Institutions) the Department makes it so that UPRM forms part of the eight universities in the United States and Puerto Rico, with highly Hispanic populations, with the goal of raising the number of Hispanics with bachelor's degree's and graduate titles.

The faculty of INEL/ICOM is composed by 62 professors.


First Class Students

Currently the students, graduate and undergraduate, of the UPRM Department of Computer and Electrical Engineering add up to 1,500 and the majority of them, at some point in time during their studies, as a requirement, must participate in research that is carried out by their professors or by their own efforts.

As signaled by the dean of Engineering, doctor Ramón Vásquez Espinosa, the development of the Department over these eight decades has managed to balance the area of education with research.

"The direction that the Department has taken, being one of education is also one of research, has made it so that our students are able to be on the same level with students all over the world," noted the Dean, who has held this position of the past nine years and also has a bachelor's degree and a master's degree from UPRM in Electrical Engineering.

A loyal example of the synchronization of education and research are undergraduate students of the course, Interconnection of Microprocessors, who during the press conference presented the projects that formed part of the aforementioned course that was given by professor Manuel Jiménez.

UPRM students presented Movie Pass, a system based in radio frequency identification (RFID) for movie rental businesses that allows the registration of movies, clients and the complete rental and return process. Another student project that utilized RFID is one that monitors the feeding patters of birds.

The students also gave the presentation Smart Health Station, a system that permits taking the vital signs of the person, among which are included: weight, height, temperature and blood pressure.

On the other hand, the On-Cart Product Marketing System proposes to redesign the way in which products are marketed in mega-stores and supermarkets to, basically, digitalize the shopping lists of clients. Also the project entitled, Sword, also seeks to market products through a flashing sphere of lights that displays 3D images.

As explained by the Director of the Department, incorporating students in research serves the purpose, "that students see Computer and Electrical Engineering as an achievable goal."

"What we want them to know is that truly, it's going to prepare and facilitate them in finding employment in whichever line of work in Puerto Rico and throughout the world," he emphasized.

Verify that your navegator can ejecutate javascript and that has the most recent version of Adobe Flash Player.

Dowmload Flash Player



| | | |
| --- | --- | --- |
| | | |
| Doctor Isidoro Couvertier Reyes, highlighted the achievements of the Department that he directs. | | In INEL/ICOM research is carried out that is recognized both locally and internationally. |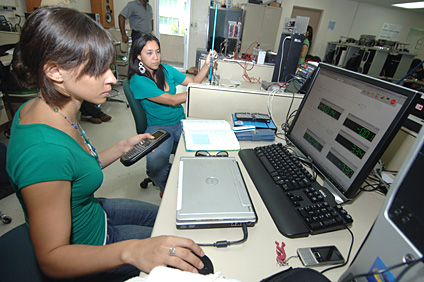 To raise the number of female professors in Computer and Electrical Engineering is one of the goals that the faculty of INEL/ICOM has.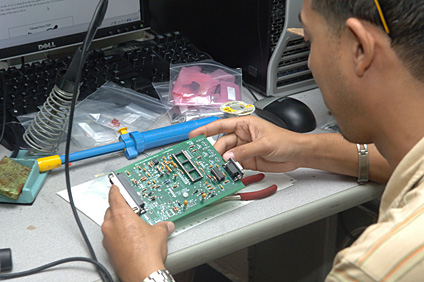 Students have as a requirement the collaboration in research that is carried out by their professors or by their own efforts.

Edward Betancourt, Rogelio Cardona, Ramón González and Willie González work on the project named Sword, a flashing sphere of lights that displays 3D images.
Photographs by Carlos Díaz / UPRM Press.