El ejercicio CARIBEWAVE tiene como objetivo probar y evaluar las operaciones del sistema de Alerta de Tsunamis del Caribe (Caribe EWS), validar la preparación en la respuesta ante tsunamis (entre los que se encuentran la prueba de los protocolos y sistemas de comunicaciones entre los centros de alerta de tsunamis y los puntos focales de alerta), y la utilización de los Productos Mejorados del PTWC para el Caribe, así como ayudar en los esfuerzos de preparación de tsunami de las agencias de manejo de emergencias en dichas zonas.
The purpose of the CARIBEWAVE exercise is to improve Tsunami Warning System effectiveness along the Caribbean coasts (which are testing protocols and communications systems between the tsunami warning centers and the tsunami warning focal points), to exercise and evaluate operations of the CARIBE EWS Tsunami Warning System, to continue the process of exposure to Pacific Tsunami Warning Center (PTWC) CARIBE EWS enhanced products, and to validate the readiness to respond to a tsunami.
Resumen del Ejercicio
Durante el ejercicio CARIBEWAVE 2016, los participantes de Puerto Rico y las Islas Vírgenes utilizarán el escenario del Caribe Sur, un terremoto regional con epicentro al Norte de Venezuela que generará un tsunami para la región del Caribe.
Tiempo de Origen: 17 de marzo de 2016 a las 14:00 UTC (10:00 AM Hora Local de Puerto Rico)
Ubicación: Latitud: 10.8°N y Longitud: 66.0°O
Profundidad: 15 km
Magnitud: 8.4 Mw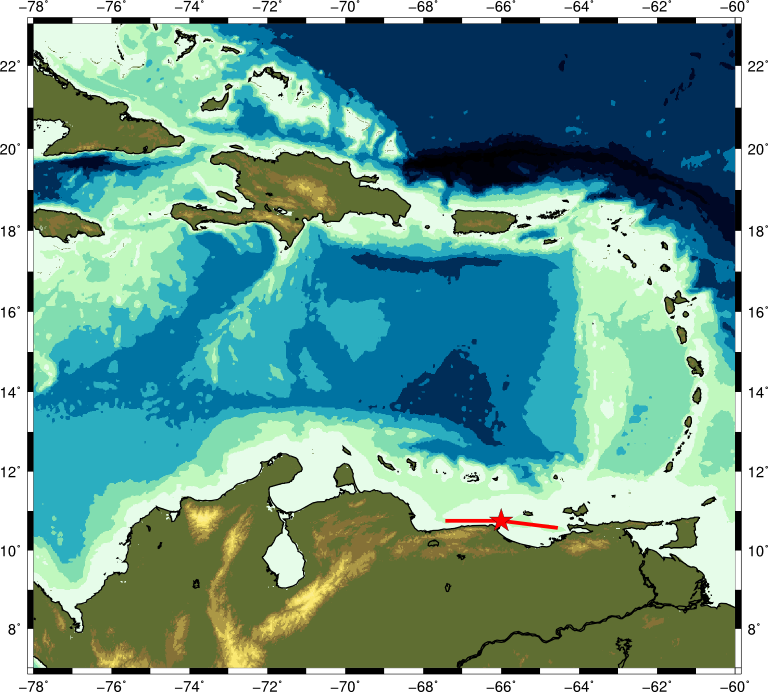 Exercise Summary
During the CARIBEWAVE 2016, participants in Puerto Rico and the Virgin Islands will use the Southern Caribbean Scenario, a regional earthquake located at the north of Venezuela that will generate a tsunami for the Caribbean Region.
Origin Time: March 17, 2016 at 14:00 UTC (10:00 am, Puerto Rico local time)
Location: Latitude: 10.8°N & Longitude: 66.0°W
Depth: 15 km
Magnitude: 8.4 Mw
Los participantes de Puerto Rico, Islas Vírgenes Estadounidenses e Islas Vírgenes Británicas deben referirse a la información basada en los productos domésticos del PTWC ofrecida en esta página y en La Guía de Respuesta de la RSPR para la Región de Puerto Rico e Islas Vírgenes.  El primer mensaje con información de tsunami se emitirá a las 10:05 am (hora local de Puerto Rico).
Participants in Puerto Rico, US Virgin Islands and British Virgin Islands should refer to information included in this webpage based on the PTWC domestic products and the CARIBEWAVE 2016 PRSN Response Guide for the Puerto Rico and Virgin Islands Region.  The first tsunami information message will be issued at 10:05 am (Puerto Rico local time).