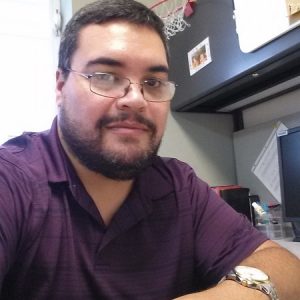 Rank: Adjunct Assistant Professor
Education: Ed.D, Northcentral University, 2016
Research Areas: Online multiplayer video games for ESL learning, alternative texts (comic books, etc.) as resources for ESL vocabulary enrichment, Relationships between socio-political ideology and language.
Office: OF 123
Email: kenneth.horowitz@upr.edu
Kenneth Horowitz's preparation is in the teaching of English as a second language at all levels. He possesses a BA in Secondary Teaching in English, a MA in English as a Second Language, and an Ed.D in English as a Second Language from Northcentral University in Arizona. His research interests include the use of technology, particularly electronic games, for ESL teaching. He has published in this area in PR TESOLGram, the International Journal of Foreign Language Teaching, and the Hispanic Educational Technology Services online journal. Additionally, he has presented at the 2006, 2010, and 2011 Western TESOL conferences. In 2016, he published a book about the history of American Sega games with McFarland Publishing.