The English Department is excited to announce that Brenda Flores Santiago, an alumni from our department, was recently awarded a Medalla de la Juventud Puertorriqueña 2021 by the Governor for her tireless efforts on the Mi María project.
"It is an honor to have the opportunity to relate the stories of triumph and the achievements of so many young Puerto Ricans who strive to help others, study, work and contribute to the social and economic development of our Island. That sense of dedication to the noble causes and positivity to achieve what they set out to do is extremely admirable. Today we award 38 outstanding young people in their communities, representing the hundreds of others who are doing many good and productive things throughout Puerto Rico."

The secretary of the Department of Economic Development and Commerce (DDEC), Manuel Cidre Miranda
Brenda Flores Santiago graduated from UPRM with a Bachelor of Arts in English Literature with a minor in Writing & Communications and a curricular sequence in Comparative Literature. She is now in the University of Illinois Urbana Champaign completing a Masters in Translation and Interpretation for English and Spanish language.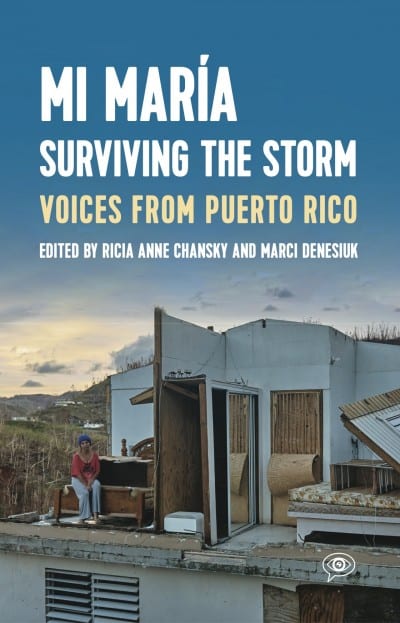 Mi María: Surviving the Storm is an oral history book that contains the narration of seventeen survivors of the aftermath of Hurricane María in Puerto Rico. The collection explores how communities came together in the wake of disaster, what it means to be a US citizen in a colonial context, and how precarity is exacerbated for those on the frontlines of climate crisis.
Brenda asserts that she got involved with in project in a very peculiar way.
"I was a senior, so I was taking electives I needed to finish my Bachelors. However, the class I was going to take got canceled because there were not enough students enrolled. Since I had taken class with Dr. Chansky before, I decided to enroll in one of her classes. It is important to note that this all happened before Hurricane Maria, so the Mi Maria project had not existed. The project began when we came back in the form of a few assignments, then we started to develop what it is today. I wanted to help as much as possible because our project would actually helping people."
She believes that this project was much-needed. Especially in the UPRM, as Brenda addresses the fast-paced environment in which the students are expected to adapt to despite of the circumstances surrounding them.
"En el Colegio, we have this mentality of 'Go Go Go' and we never just stop. For instance, we've seen that with las huelgas, where students are trying to be heard but everything just keeps going. After Hurricane Maria, to have someone sit down and say 'The students are going through something and we cannot just ignore it' was extremely refreshing. We need humanity amidst crisis."
Brenda also shared her thoughts on having been awarded the Governor's Medal and the event that followed it.
"I was surprised to hear about this award because these community outreach projects don't get much recognition in Puerto Rico. One of the reasons why we started the Mi Maria project in the first place was to showcase the voices that were unheard. Although it felt great to be recognized for my work, I felt a little bit uneasy about the extravagance at the event. My project highlighted the effects of the hurricane in Puerto Rico and how the government did not do much to help impoverished individuals. Seeing how I was being commended for my work with a grand event, while funds did not go to those who needed it four years ago left me pondering on the stark reality of Puerto Rico. It was unfortunate, but it did not surprise me."
As Brenda utilized the skills she gained during her undergraduate journey to conduct this impactful research in Puerto Rico, she is determined to do the same as she attains her Masters in Translation and Interpretation.