As the semester approached its end, on November 27th The English Department celebrated the initiation of two of its associations on the same night. Rum Linguists and the English Department Student Association (EDSA) joined forces to celebrate their awaited ceremony. Members and professors gathered during the evening to celebrate the hard work both associations put into their respective groups during the 2018 Fall Semester.
For Rum Linguists' this initiation was very anticipated since it was the associations first time officiating a ceremony and initiating their members; EDSA followed suit and also iniciated its new directive and members. The associations respective advisers Dr. Catherine Fleck for Rum Linguists and Dr. José Irizarry for EDSA swore in the presidents for this year, Rum Linguists President Isis Fortys and EDSA President Andrea Valdés.
Following this, all members also took the oath to serve their respective organization (a total of 23 students were initiated into Rum Linguists, and 19 into EDSA.) After certificates were given for the new members and pictures were taken the night continued with a social gathering and a delicious dinner.
Bellow the 2018 Directives: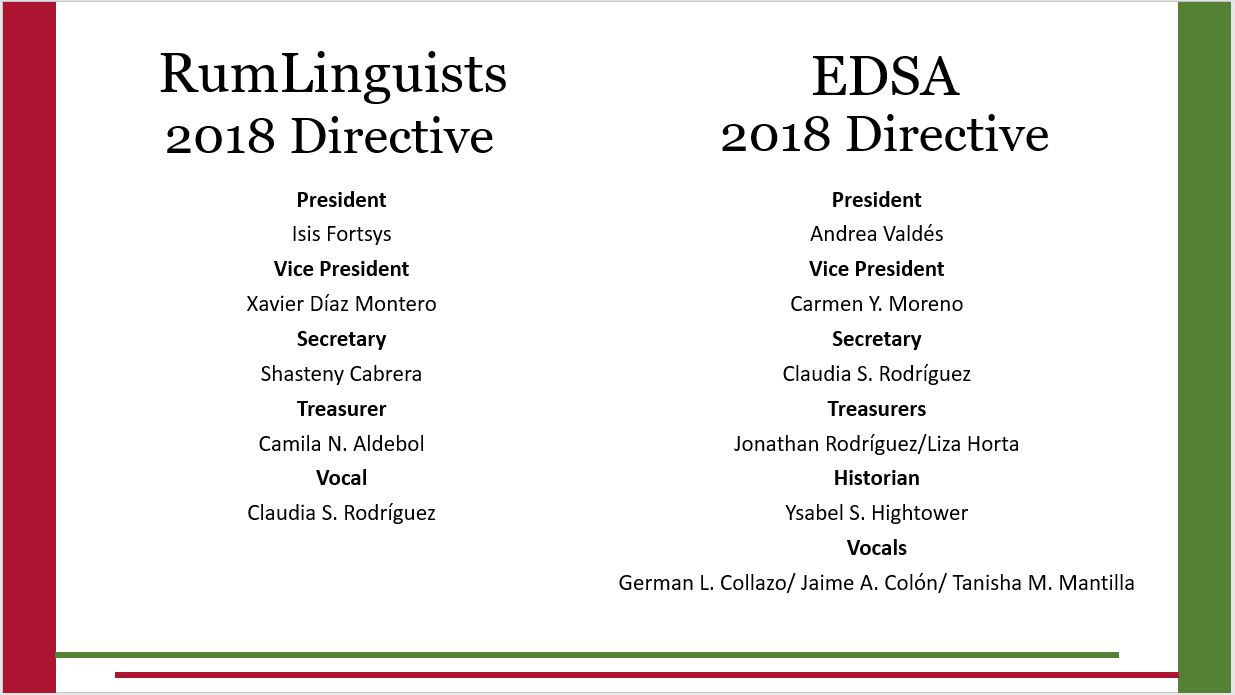 Please enjoy the following slideshow of the 2018 Rum Linguists and EDSA Initiation Ceremony:
[layerslider id="9″]
Congrats, to the new directives and members!
Post Collaboration-  Tanisha M. Mantilla and Shasteny Cabrera Roldan