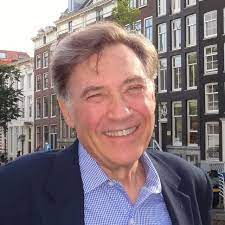 Jack Zipes is a preeminent fairy-tale scholar who has written, translated, and edited dozens of books, including The Original Folk and Fairy Tales of the Brothers Grimm and Complete Fairy Tales of Oscar Wilde. He is a professor emeritus of German and comparative literature at the University of Minnesota (Penguin Random House).
In this virtual event, Jack Zipes introduces readers to two historic children's books: The Magic Herband Teddy, the Little Refugee Mouse. Little Mole and Honey Bear Press's mission is to republish children's books with timeless values, to preserve the things that make us human, and stand up to forces that would tear our society apart.
About Teddy, the Little Refugee Mouse: As World War II erupts in Europe, London is no longer a safe place for a little mouse. Teddy must follow the humans from their city home to resettle in the country, where the war won't prevent them from dropping breadcrumbs. Once there, he meets a welcoming mouse family happy to share their bounty of oats, milk, and other farm fare with a refugee from London. However, life in the country presents its own challenges, like the tabby cat Spitfire, who threatens the tranquility of the little mouse family. Teddy must rely on his ingenuity and creativity to save the mouse family that so generously saved him.
About The Magic Herb: Baby Badger is very sick, so sick that his brothers, Light-foot, Quick-ears, and Bright-eyes, have only one hope to save him—the legendary Magic Herb, which grows in the ruins of an old monastery on top of a mountain on the Magic Isle. Nobody who has dared to search for the Magic Herb has ever returned—but that doesn't discourage Light-foot, Quick-ears, and Bright-eyes, who are willing to rely on their virtues, face the unknown, and do what they know is right . . . even if it might be impossible.
The event will be held on Tuesday, October 5th, 2021 8:00 PM ET (Eastern Time). It's free to register! Click here to gain access to this online event.