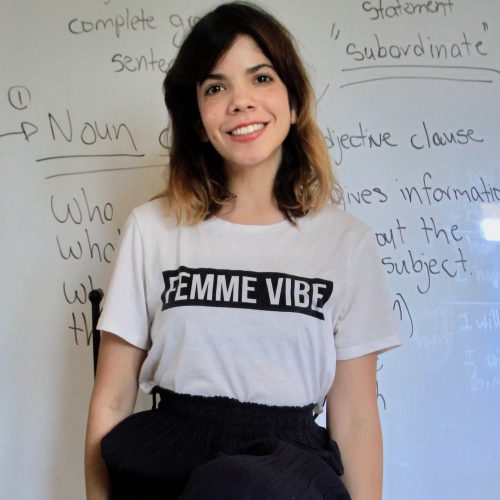 Rank: Temporary Professor
Education: Trinity College Dublin, the University of Dublin Ireland, 2019
Research Areas: Sociolinguistics, bilingualism, language ideologies, language variation, language change, World Englishes
Office: OF – 119
Email: katherine.morales1@upr.edu
Website: katherinemoraleslinguist.com
Katherine is a Temporary Professor of English linguistics at the University of Puerto Rico – Mayagüez. She earned her Ph.D. in Sociolinguistics at the University of Dublin – Trinity College (2013 – 2019), a Master's of Science in Applied Linguistics from the University of Edinburgh (2011 – 2012), and a Bachelor's of Arts degree in English Linguistics from the University of Puerto Rico. Katherine has previously published on language and identity, semiotics, and bilingualism. Her most recent work was featured on an edited volume by Routledge London on Translinguistics: Negotiating Innovation and Ordinariness (J. Won Lee and S. Dovchin as editors). She has also presented on several prestigious international conferences, including the 2018 American Anthropological Association's Annual Meeting (San José, California), 21st Sociolinguistics Symposium in Murcia (Spain), the 11th International Symposium of Bilingualism (Limerick, Ireland), and the 48th Annual Meeting for the British Association for Applied Linguistics (Birmingham, UK).
Dr. Morales has a longstanding interest in describing English in Puerto Rico from a social perspective. Her research incorporates methods from linguistic anthropology, variationist sociolinguistics, and discourse analysis to uncover the complex ideological and symbolic values of English on the island, how islanders orient to these values, and how they assert and construct their social identities through the strategic use of language in interaction. When she is not reading about the latest trend in sociolinguistics, Katherine (Kathy) enjoys baking, playing guitar, painting, and running.