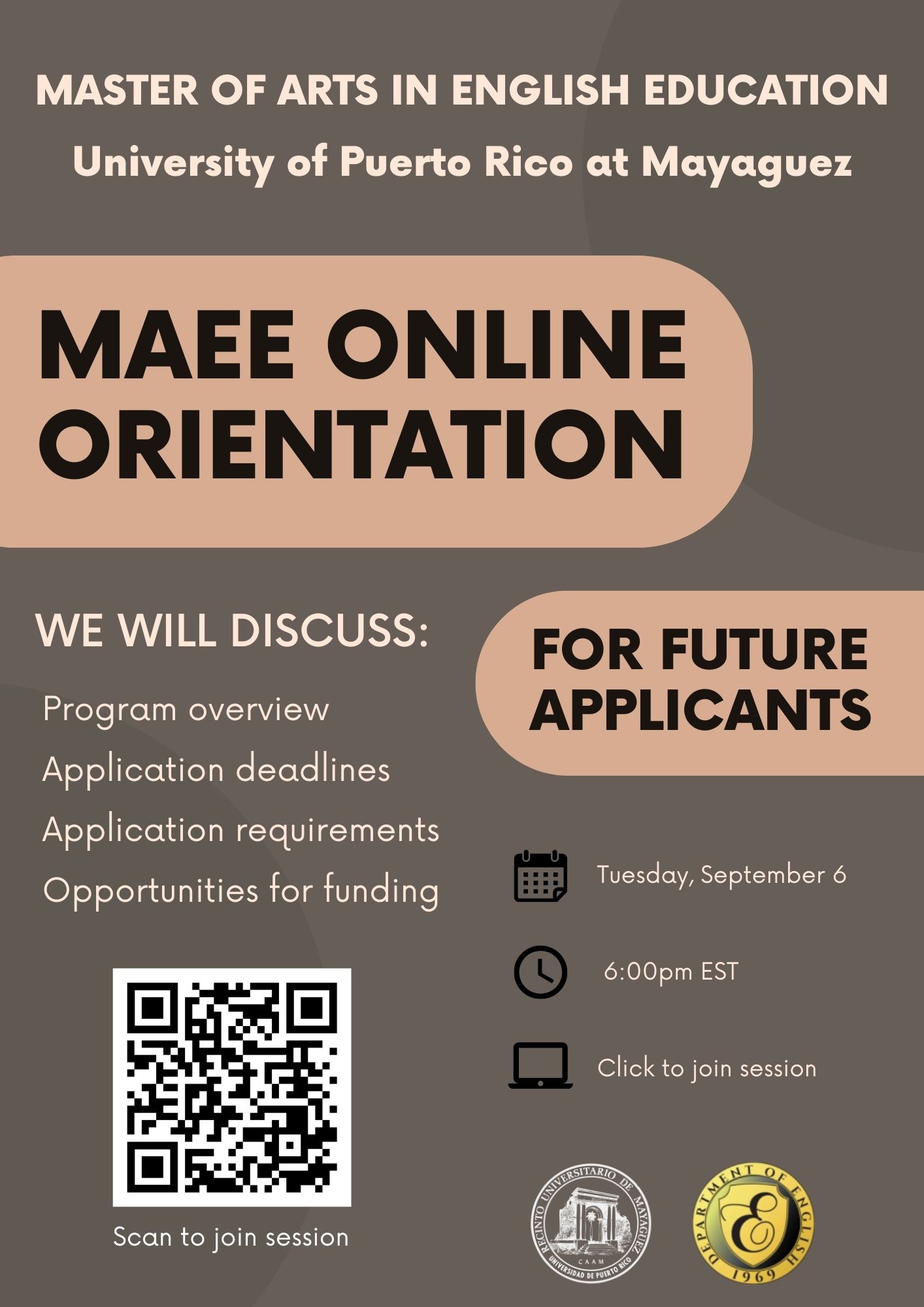 The English Department is excited to announce that next Tuesday, September 6th, the Masters of Arts in English Education (MAEE) will be hosting an online orientation.
Meeting Link: https://meet.google.com/mtc-agzz-vxs
The department awards a Master of Arts in English Education (MAEE) with offerings in Applied Linguistics, Literature, and Pedagogy with an emphasis in Bilingual Education. This engaging and diverse graduate program is designed to foster students' research and academic writing skills while offering a variety of content-based courses.
While enrolled in our program, students gain valuable professional experiences by:
teaching undergraduate-level courses
participating in ongoing teacher training and professional development workshops
holding research and editorial assistantships
working in the English Language Writing Center
presenting at local, regional, national, and international conferences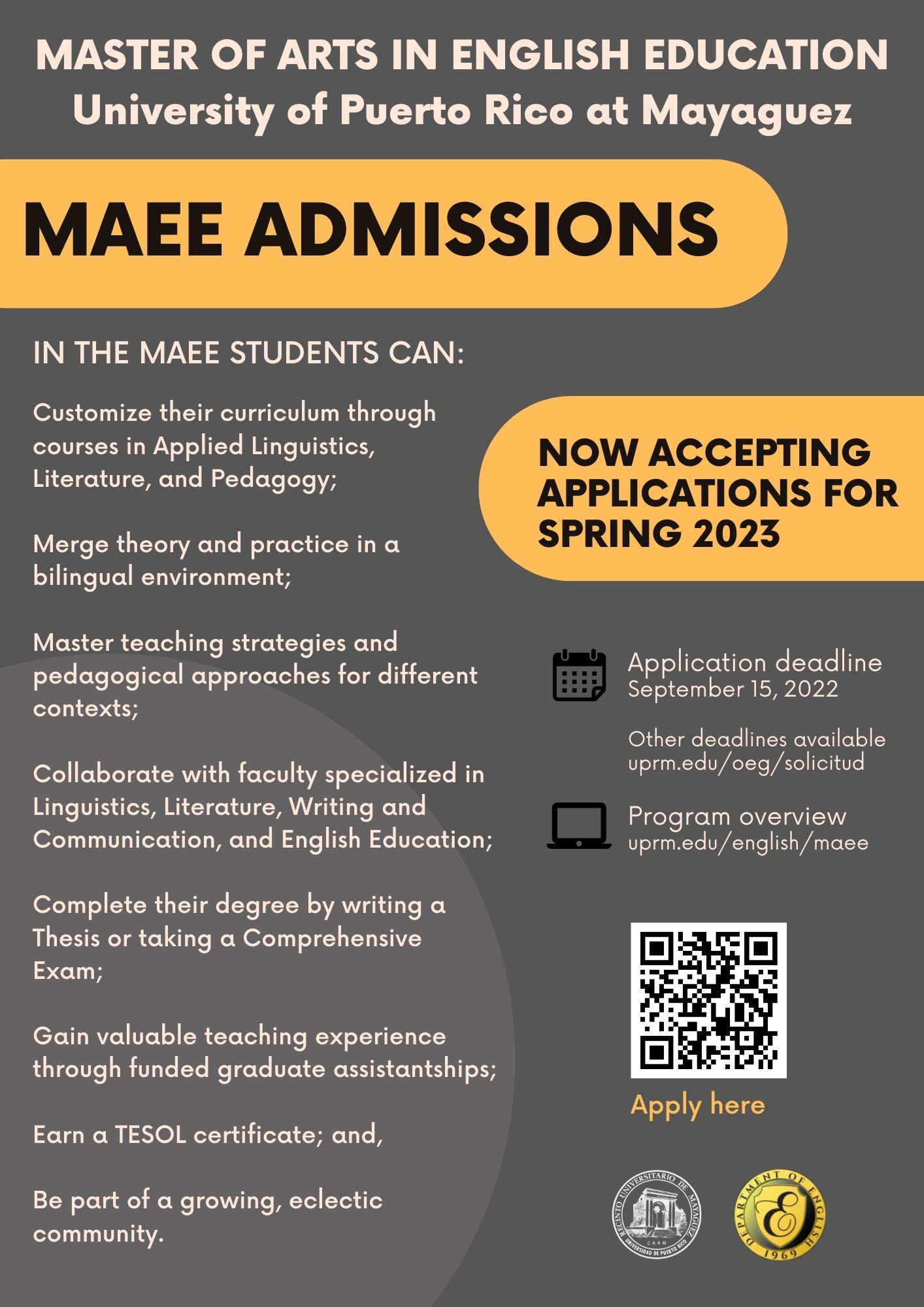 Testimonials from Former MAEE Students
Karrieann Soto Vega, PhD
Graduation year: 2010
Current position: Assistant Professor of Writing, Rhetoric, and Digital Studies at the University of Kentucky.
"In addition to mentorship, the faculty of the English Department at UPRM set a good example of what it means to be active scholars by seeking research opportunities and participating in conferences, while also being attentive professors and community activists. Besides teaching English Composition courses as a Teaching Assistant, the rigorous academic experiences during coursework, engaging in research, and the process of writing my Master's thesis all prepared me for doctoral work outside of Puerto Rico."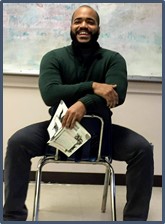 Kelsins Santos
Graduation year: 2017
Current position: ESL Teacher Team Leader
"The MAEE was an enriching experience that helped prepare me to deal with the diverse needs of ELLs in a variety of contexts. The University Teaching Development course played a crucial role in helping me develop a teaching philosophy which adequately suits the reality we live in. My perspective of pedagogy, instructional strategies and an overall understanding of English Education's place in the world was emboldened thanks to the professionals and peers I had the chance to work with throughout the duration of my enrollment."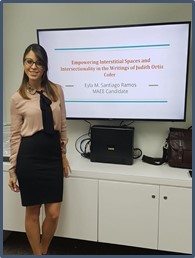 Eyla Santiago
Graduation year: 2018
Current position: English teacher in the Department of Education

"The MAEE helped me to grow as an educator and student. I took courses that changed my life perspective and teaching. My defense took place at a difficult time (hurricane María), but I was lucky to have a committee that never abandoned me regardless of their personal struggles within the island's crisis. My professors found the way to help me without electricity."
Jessie Mundo, Doctoral Student
Graduation year: 2018
Current position: Instructional Designer
"Doing my Master's in English Education at the UPRM was the best decision I ever made. I learned from passionate professors who advocated for critical thinking and made sure that what we learned in the classroom would be applicable to our profession."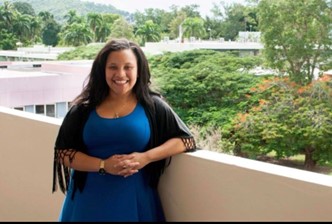 Ranesha Olivia Smith, Doctoral Student
Graduation year: 2018
Current position:
Student Success Advisor
"My experience in the MAEE program at the University of Puerto Rico at Mayaguez was life changing. I had never been to Puerto Rico, but I arrived with all my fears, excitement, and luggage ready to tackle the educational goals in front of me. I was met with encouragement from faculty and staff members who reminded me that I could overcome any obstacle that stood in my way during my time in the program."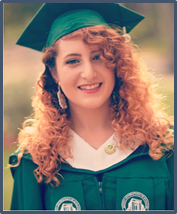 Ashley Miranda Lebron
Graduation year: 2018
Current Position: Peace Corps-Costa Rica English Teacher Trainer
"The MAEE was the perfect opportunity for me to continue to learn about English teaching methods, approaches and strategies and apply this knowledge immediately as a T.A. in my own Basic English 3101-3102 classroom. The professors and courses in the MAEE program help you navigate life as a graduate student, Teaching Assistant and young researcher. Completing the MAEE program along with having two years of experience teaching at the university level has advanced my career as an educator. I will always look back at my time in UPRM with immense joy and pride."