January 2022 marks the start of "Listening to Puerto Rico: The Promise of Oral History On-Campus and Beyond," a $500,000 NEH-funded Digital Humanities project that will bring together the English Department, Film Certificate, and General Library to establish a new Oral History Lab in the UPRM Library. The lab will have a physical space in the library—with an interview room and film production and postproduction facilities—as well as a virtual presence featuring a digital archive housing oral history recordings, documentary films, exhibitions, and other modes of data visualization created as part of this project.
During the 2022 calendar year, oral history students will collaborate with students in Film Certificate courses to record the stories of people in our communities and make documentaries that use the power of film to tell these stories in creative and compelling ways. Students in the film classes will benefit from the guidance of two accomplished filmmakers.
In CINE 3025: Introduction to the Documentary, students will work with Raisa Bonnet, a prize-winning director and cinematographer, making short documentaries based on oral histories collected by students in classes taught by English Department professors Ricia Chansky and Marci Denesiuk.
In CINE 4016: Film Production – The Creative Documentary, students will become part of a team making a documentary about food and community after Hurricane María and during COVID-19. This course will be taught by Guillermo Gómez Alvarez who has made many documentaries in Puerto Rico, including Máter Atómica, a series of short documentaries about the nuclear reactor in Rincón that won a Suncoast Emmy.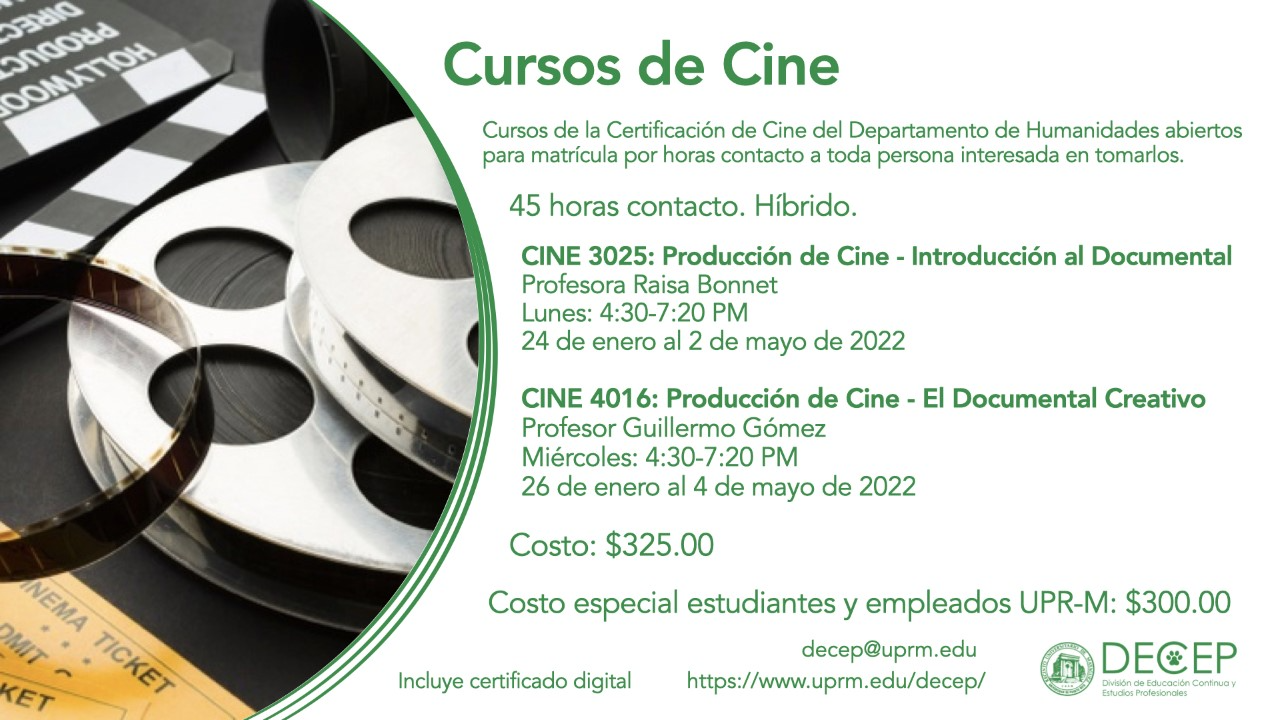 UPRM students and those enrolled at any UPR campus can register for these courses before the start of classes. For more information email cine@uprm.edu.
Those who are not current UPR students can enroll through the Division of Continuing Education (DECEP). Email DECEP at decep@uprm.edu or phone them at 787-832-4040 (x3054 or x3058).
Classes begin January 20th.
Link to Trailer for the Film Courses: 
Máter Atómica is a 5 part web series of short documentaries about Puerto Rico and the Cold War during the 1960s. Each part is 4 minutes long. To watch it, click on the links below.