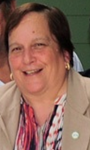 Rank: Literature
Education: Ph.D. Florida State University 1990
Research Areas: Drama; Theater; Short Story; Rhetoric and Composition; Teaching Literature; Teaching Composition
Office: CH-308
E-mail: darnyd.ortiz@upr.edu
Darnyd Ortiz is a Professor of English at the University of Puerto Rico – Mayagüez. Active in the Academic Community, she has been the Associate Dean of Academic Affairs since 2011. Her regular course offerings at UPRM include Advanced English and English Modern Drama since 1890. With an M.S. in Theatre Direction from Florida State in 1979, she also offers courses through DECEP UPRM on using Drama as a Classroom Resource. Outside the University, she has been active in the community as a Coordinator of the English College Board, member of the Committee for Prevention of Violence against women (2013) and President of Troop 39 of the Boy Scouts of America, where she received a Silver Beaver Award in 2005. She has also been involved with the associations: PR's Teachers of English to Speakers of Other Languages (TESOL) and National Council of Teachers of English (NCTE).