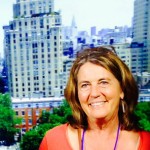 Rank: Writing and Communication Professor
Education: Ph.D. Indiana University of Pennsylvania 1999
Research Areas: Writing in the Disciplines; Second Language Writing; Second Language Acquisition; Rhetoric; Teaching Writing
Office: OF-107 Ext.: 6107
E-mail: ellen.pratt@upr.edu
Originally from Lansing, Michigan she attended high school and later got her BA in English Education at Michigan State University. After moving to Puerto Rico she finished her MA at the Inter American University in San German in English/TESL. She joined the English Department in 1986 as a temporary professor with an MA. The university later granted her the opportunity to complete her studies at the Indiana University of Pennsylvania where she received a PhD in Rhetoric and Linguistics with an emphasis in ESL writing. She is currently the coordinator of the Intermediate Freshman English course, which involves organizing the curriculum for the course as well as helping an average of 20 to 25 professors and Teaching Assistants plan and teach it. She also teaches the 6030 or 6040 course at the graduate level. Her research interests are tied closely to her educational background. Within the theoretical framework of third spaces, she have looked at how teachers construct identities through interactions in professional development activities such as the MayaWest Writing Project. She has recently become interested in how technology is used to teach writing and has developed and taught INGL 3103 and 3104 as hybrid courses using blended learning techniques. In the summer of 2014, she attended the Faculty Resource Network at NYU where she participated in a course in Blended Learning to further develop her own knowledge and skills in this area and to help others develop courses using blended learning. Over the years she has chaired eight thesis committees and been a member on many more. The majority of the theses were on topics related to ESL language learning and pedagogy, and curriculum development of ESL and writing.