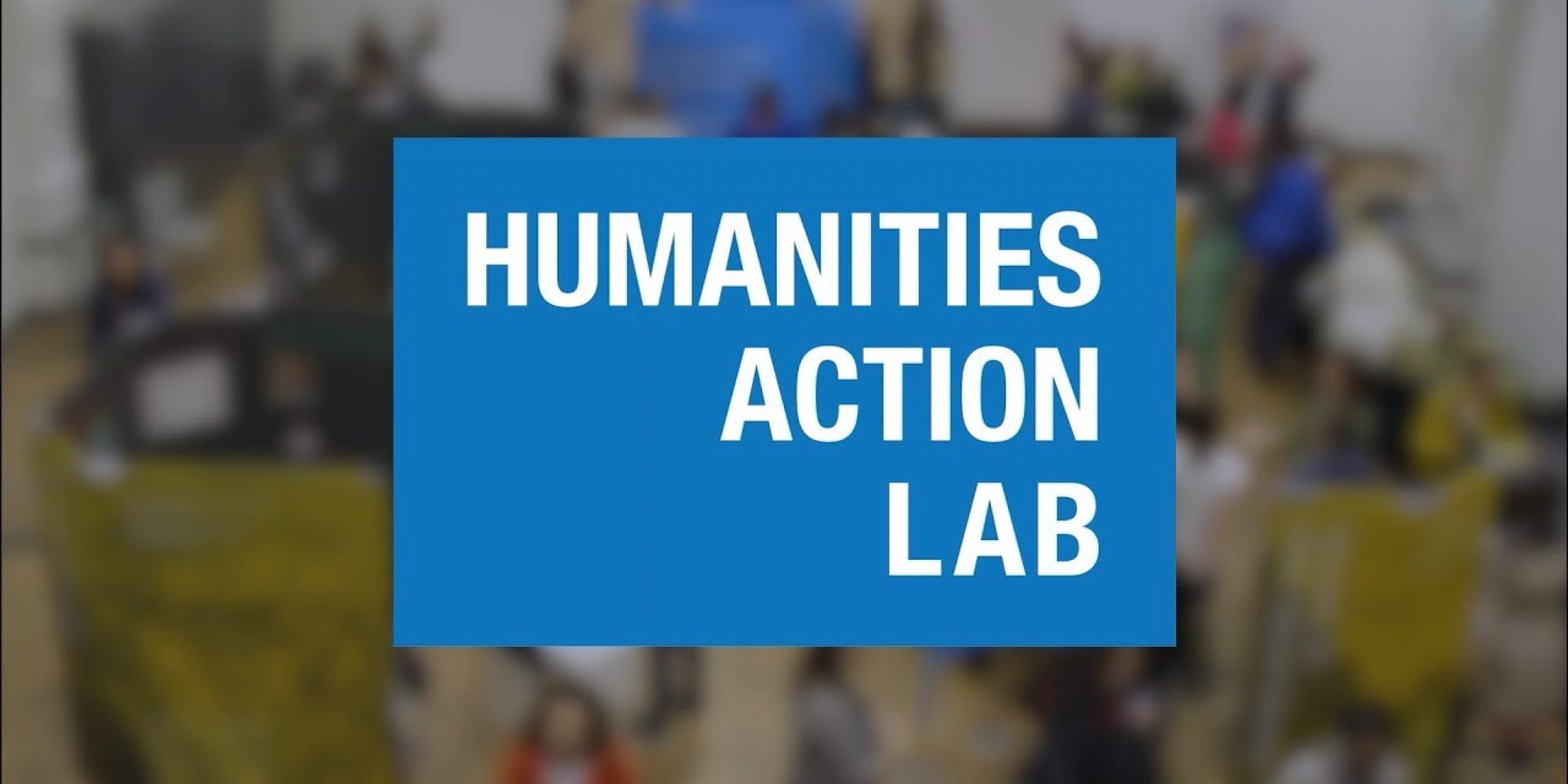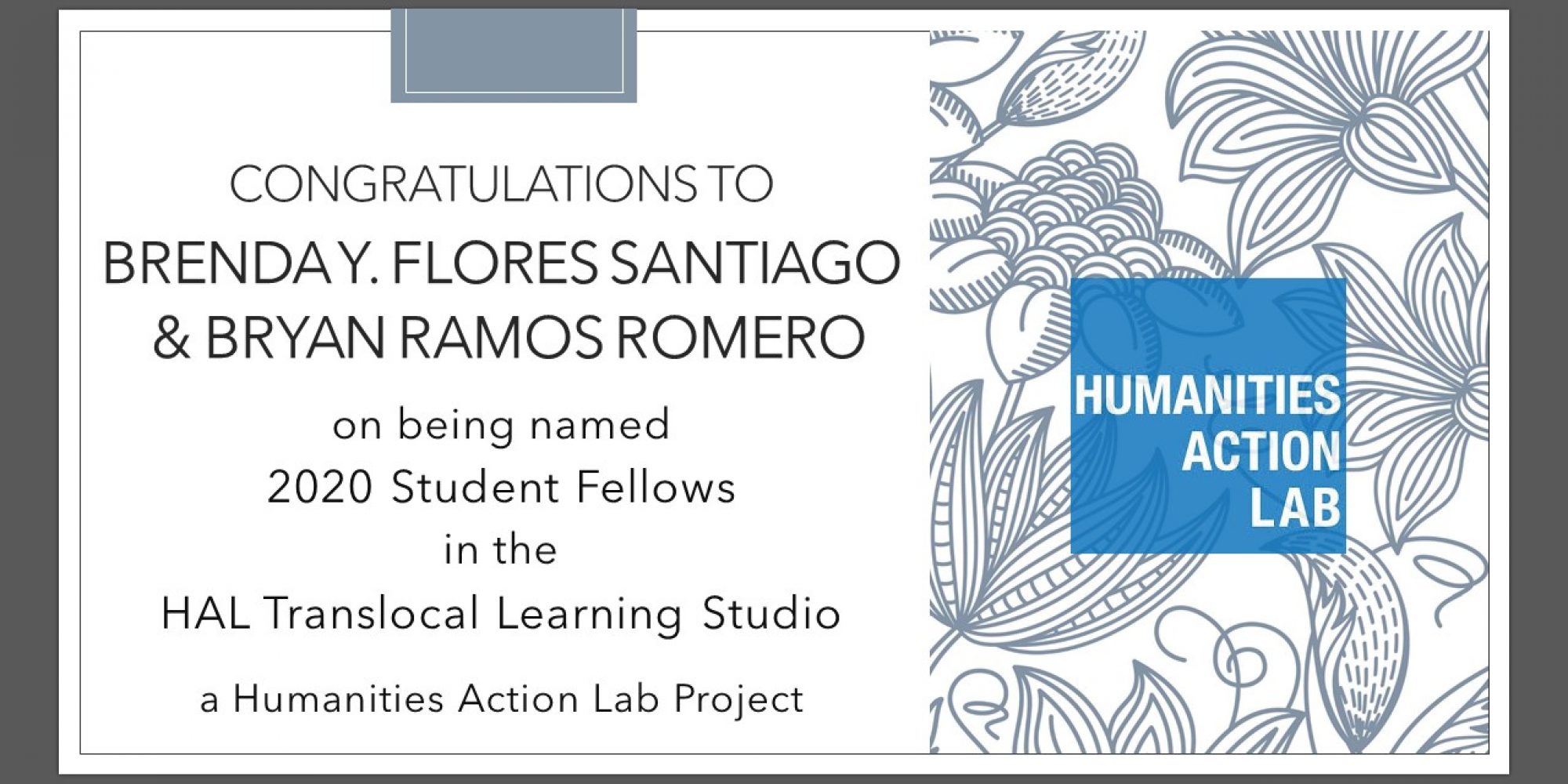 The English department would like to congratulate students Brenda Y. Flores and Bryan Ramos on being named Student fellows in the HAL Translocal Learning Studio. This is a project that discusses and develops decolonial and anti-racist practices in education both on and off-campus with a focus on community partnerships and public humanities.
Brenda culminated her Bachelor's degree in English Literature in December of 2019 with a Minor in Writing & Communications and a curriculum sequence on Comparative Literature. She is currently in the process of applying to graduate school.

Bryan is currently in the progress of completing a Bachelor's degree in English Literature with a Teacher Certificate.
How did you find out about the HAL (Humanities Action Lab) Translocal Learning Studio fellowship?
Brenda: When the pandemic started, I had a phone call with Dr. Chansky to see how we were doing during this process and we started talking about how Hurricane Maria had thought us some valuable skills. And how because of those skills, the staying in part of the pandemic didn't seem that hard because somehow in a really sad way hurricane María had helped us. Dr. Chansky then extended an invitation in the month of March to work in a COVID related project as a core member with HAL. That project was called the HAL Summer Sessions where storytelling within the communities leaders of HAL would meet and discuss the power of storytelling in these moments. After that fellowship needed in September 17, I was later invited to be part once more as a core member but this time for the Translocal Learning Studio.
Bryan: I first heard about the Humanities Action Lab from my professor, Dr. Ricia Chansky while working for the Mi María: Puerto Rico after the Hurricane project.
What did you like about the HAL project?
Brenda: The projects that HAL have created are an open space for vulnerability. I'm these spaces you can find grad students, PhD professors, students and, community partners teaching and learning from each other. They have created a space for accountability, a space for chances, but overall a space where action towards change in this social/political/racial climate is the number one priority.
Bryan: I really liked how it linked all sorts of dedicated people from individuals involved in small-scale community projects all the way to professors and other professionals in large, funded humanity projects. That is only a generalization though, there are many more people from different walks of life working with HAL. But what binds them is that drive to work together to achieve change and that is what HAL does, providing a mutual aid platform for these groups that seek to commit change whether in social justice or the climate change community.
According to Dr. Chansky, "This is a project that discusses and develops decolonial and anti-racist practices in education both on and off-campus with a focus on community partnerships and public humanities." What would be your responsibilities as a Fellow?
Brenda: My responsibilities as a fellow include attending 4-5 sessions of the 8 online modular sessions, to offer feedback at the beginning and end of the semester, and to help create a shareable learning resource. We are not only participating as attendees we are also speakers responsible of showing the realities of being part of a colony owned by the US.
Bryan: My responsibilities as a fellow are quite straightforward. I am responsible for engaging and dissipating ideas and strategies on how to forward that goal. It is our hope that we can develop practices that will change the educational (formal and informal) landscape into a safer and more aware space. By working with other individuals, I am also responsible for creating partnerships that will hopefully develop into further collaborations for the benefit of both their and my community. The idea is to create this chain of alliances that springs into bigger movements capable of doing more good.
You will be collaborating with HAL's 26 teams throughout the United States. How will this work? Do you all share the same goal?
Brenda: We are meeting through the online sessions but we are also meeting before hand (only the core members) where we are able to create a connection within the teams and their line of work with HAL. It's a pretty organize collective of individuals and there is always a facilitator, for example the lovely Leora, that help guide each sessions and she makes sure we follow the agenda for the day. We get to meet in different breakout sessions within the zoom meetings to answer questions and to share experiences. We then get the chance to share our conversations with everyone that's attending the session that day, which are open to all public and the link is shared in their Facebook page. I think we do have the same goal, which is to learn and to be able to put that learning into practice to help our communities and society. By sharing what has worked for us and what hasn't.
Bryan: It might sound daunting on paper, having 26 teams of people speaking left and right, but it's anything but that. During each session, all the teams are centered to a particular topic which is developed by one of the members. After the topic has been developed, we are separated into breakout rooms where we all have a chance to discuss, share and create our own strategies regarding that topic and choose a person who will synthesize what we discussed. When the breakout sessions are done, we all converge in a large discussion, taking turns to express what we devised and sharing our opinions on each strategy.
What is the goal for the HAL project fellows in the island?
Brenda: Personally, I think we just want to show how things really are in the island. I feel that we believe that everyone knows about the struggles of the island but in reality that's not the case. Yet at the same time we are highlighting the communities that are actually working to make this island better, the artist that have risen to raise awareness of the political and social struggles of the island.
Bryan: Our goal is to connect and disseminate our own Social Justice practices while also learning those from others. This is hopefully followed by many collaborations done with other fellows. The goal is to form these partnerships and create a loop of mutual aid within the HAL platform and with the help of like-minded individuals and groups.

Given the current circumstances with COVID and other political events, how would your fellowship be affected?
Brenda: I think that this climate has made everyone overwhelmed and that's something that is been seen through the sessions, yet since the space that has been created is so open and full of care and acceptance this climate has made the participants closer and attentive, for what I've seen and experienced. And again the people that are involved in the project are truly magnificent and willing to take from their busy agendas time to work for the greater good of the society we live in.
Bryan: Thankfully, we have the internet, so our ability to work in the fellowship has not been greatly affected. As for political events, this fellowship does not ignore, but prefers to work on matters that function independently of government affiliations or participation.
What are your expectations for this project in P.R., and for yourself as a Fellow?
Brenda: My expectations for this project with PR is to give an inner look of our social/political/colonial/COVID climate to people from all over the USA. For myself it would be to learn as much as possible from each of the members and to be able to pass on that knowledge while at the same time be of use for the other participants and to the audience this project reaches monthly.
Bryan: I hope to be able to bring more light to the decolonial practices in the island and inform other fellows that might be unaware of the current socio-political state of Puerto Rico. Many of them are from the United States and are not entirely aware of what we are going through. My hope is that by forming these partnerships with other fellows, we can connect more individuals with the cause of the Mi María project and in the process, create different sub projects within and outside the UPRM campus.
What do you hope to learn from the experience?
Brenda: I hope to learn to be even more empathic with others, to be able to grow as an individual to help my community grow. I will like to add that I am extremely grateful for the conversations that are being made during the sessions.
Bryan: I am very open as to what I hope to learn with the Translocal Learning Studio fellowship. I am hoping to learn from various communities the various ways one can combat colonial struggles, racial oppression, and climate change. There is no doubt that I will learn far more than that. What you learn with the Humanities Action Lab is that they are incredibly dynamic, and always trying new things out for the sake of educating.