Friday, December 5, 2008 [ spanish version ]
| | |
| --- | --- |
| | |
| | The piece, Mapriola en rojo, is an example of how fetishes with the color red are mixed with earth colors. |
The noise from each painting emanates from within the person who is looking at it. That is how the artist Andrés Rodríguez Santos interprets the nature of his exposition, Ruidos en la memoria (Noises in the Memory), on display at West Gallery as part of the activities sponsored by the Committee of Cultural Promotion, part of the Humanities Department of the University of Puerto Rico at Mayagüez (UPRM).

Rodríguez Santos, from Yauco, Puerto Rico, has a Master's degree in Fine Arts from Pratt Institute in New York, and has presented various individual and collective exhibitions within, and outside of Puerto Rico. His works have been awarded on multiple occasions by the Puerto Rican Athenaeum (Cultural Institution) and is currently considered one of the artists that most represents Latin American plastics.

In the artist's judgment, Noises in the Memory is an example of the art that has been evolving since the 1970's

"I have never been on the crest of the wave. My work presents a traditional conceptual line; that is to say, it uses traditional materials and images. That is why I would not be able to say that this collection is representative of an artistic rupture or from a new art," explained Rodríguez Santos.
| | |
| --- | --- |
| | |
| The piece La mano de la pirómana in one of the artist's favorites. | |
Doctor Laura Bravo, Art professor from the Humanities Department, and member of the Committee of Cultural Promotion, indicated that the style used in Noises in the Memory registers along the lines of surrealism, artistic current that originated at the beginning of the 20th century that touches the theme of dreams and searches to discover a truth with automatic transference utilizing images to express emotions, but without using logic reasoning.

"Rodríguez Santos is a born surrealist. That is why the most important concepts of this movement are appreciated in this exhibit, for example, the pulsation between opposites: rational and irrational, moral and carnal, urban and savage," explained Bravo.

On the other hand, as much for the artist as for Bravo, the pieces emphasize multiple and gaudy metaphors in reference to sexual instinct as a means to declare a human facet besieged by moral restrictions.

"What society tries to cover up, Andrés Rodríguez Santos reveals like noises in the memory, of whichever person," noted Bravo.

Rodríguez Santos, principally known for expertise in drawing, indicated that he is currently in the conceptual phase of a project in this field. "It will be a drawing exposition in large format. I will present what is known as light and shadow practices," anticipated the artist.

Noises in the Memory will remain on exhibit in West Gallery until January 15, 2009.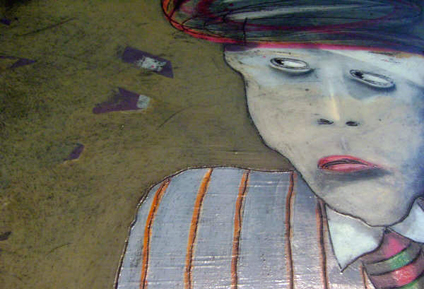 As indicated by the artist, the works entitled El Chulo remove the life experiences kept in the spectators subconscious.

These pieces depict the pulsing between opposites, hybrids and interchangeable elements. This image is captured in the piece, Objeto reversible (reversible object).
Photographs by Stephanie Silva