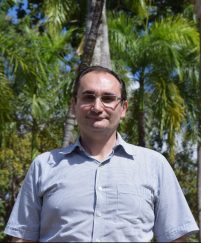 Guillermo Araya, PhD
Principal Investigator
I am pleased to welcome you to the High Performance Computing and Visualization Laboratory (HPCVL) homepage. HPCVLab is part of the Department of Mechanical Engineering at the University of Puerto Rico-Mayaguez. Our mission is to stimulate thermal-fluid research by means of state-of-the art computing and scientific visualization technology for undergraduate and graduate students, faculty and UPRM partners. We strive to implement the fundamental thermal-fluid knowledge in aerospace and industrial applications. Our vision is to become a top notch laboratory in the areas of computational fluid dynamics, numerical heat transfer and scientific visualization in Puerto Rico and the nation. I am privileged to work with outstanding and highly motivated students and collaborators with the purpose of achieving our research/academic mission. I invite you to browse the rest of our website for more information. Your feedback is highly appreciated. More importantly, I would like to thank our sponsors for providing funding and knowledge to our research projects: the Air Force Office of Scientific Research (AFOSR), the National Science Foundation (NSF), the National Aeronautics and Space Administration (NASA), and the Extreme Science and Engineering Discovery Environment (XSEDE).
Sincerely yours,
Guillermo Araya
Mission
The mission of the HPCVLab is to promote and facilitate thermal-fluid research by means of cutting edge computing and visualization technology for faculty, undergraduate and graduate students, and UPRM partners.
Research
It performs investigation in computational fluid dynamics of turbulent flows with heat transfer, algorithm development, parallel programing, high performance computing, and scientific visualization; particularly, for fundamental thermal-fluid research with applications to aerospace.
Location
The HPCVLab is located in room L-127 of the Luchetti building in the Mechanical Engineering Department.
Computing
The facility is equipped with a powerful GPU cluster, two workstations (with 128 and 64 GB of RAM memory, respectively), a virtual reality kit, a high-resolution monitor, and several terminals for remote connection to supercomputers: Blue Waters, Stampede 2, and Comet in US as well as MareNostrum 4 in the Barcelona Supercomputing Center (Spain).