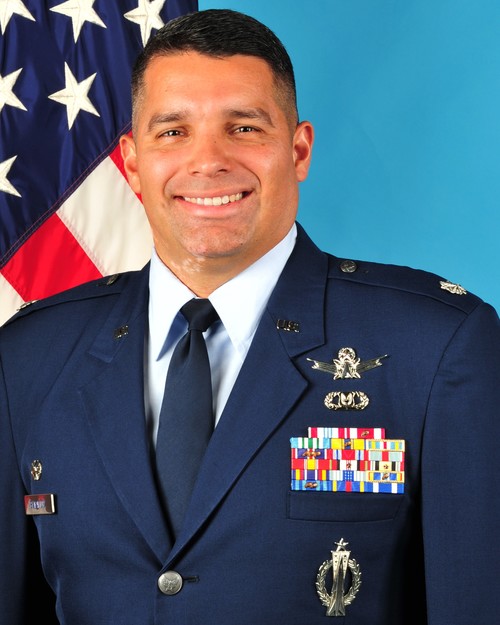 Lieutenant Colonel Casimiro Benavidez III is Commander, Air Force Reserve Officer Training Corps Detachment 756 and Director, Department of Aerospace Studies, University of Puerto Rico-Mayagüez. He is responsible for recruiting, training, motivating, and developing officer candidates into Air Force commissioned officers through a comprehensive college program comprised of fundamental Air Force doctrine, academic instruction and practical leadership experiences.
Lieutenant Colonel Benavidez was commissioned through the Air Force Reserve Officer Training Corps program at the University of Texas in San Antonio in 1998. He has served in various leadership positions to include master instructor, flight commander and Branch Chief. His staff positions include executive officer to the Director, Air Component Coordination Element, Multi-National Force-Iraq, plans officer for the Joint Information Operations Warfare Center, and Chief of Plans, Information Operations Directorate, US Forces-Afghanistan. Prior to assuming his current position, he was Chief, Levant Plans Branch and Chief, Political-Military Strategy, US Air Forces in Europe/US Air Forces Africa.
Detachment 756 Cadre
Capt Francisco Rosario, Recruiting/Education Flight Commander
Capt Rafael Beltran, Operations Flight Commander
TSgt Herminio Martinez-Melendez, NCOIC, Det 756 Director of Personnel
SSgt Charalene Watson, Administration Management
AFROTC Detachment 756
University of Puerto Rico-Mayagüez Tuesdays & Thursdays
Mayagüez, P.R. 00681-5171 8 am - 4 pm
Office: (787) 832-4040, Ext. 3382, 3386 Walk-ins are welcome!
Email: det756@us.af.mil
Copyrigth © 2015 DET 756. ALL RIGHTS RESERVED. Page Updated as of: April 2015 | Privacy Statement | Freedom of Information Act | Legal