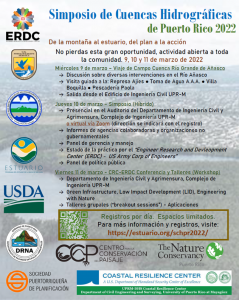 Les exhortamos a estar atentos a la página web del evento (https://estuario.org/schpr2022/) para más detalles. Mantendremos en récord a todas las personas que se habían registrado para el evento en enero y les estaremos informando el enlace del evento previo a la nueva fecha en marzo 2022.
Agradecemos su interés y les exhortamos a seguir las medidas preventivas recomendadas por los profesionales de la salud para minimizar la exposición y el riesgo de contraer esta enfermedad. Igualmente le invitamos a que visiten nuestro portal web de adiestramientos interactivos a distancia (crc-uprm-dhs-lms.uprm.edu), en la cual pueden tener acceso a diversos seminarios/adiestramientos relacionados a la resiliencia e infraestructura costera. Una vez completados los seminarios podrán recibir el Certificado de participación y acumular sus horas de educación continua.
Ver flyer original aquí.
---
UPRM-DHS Coastal Resilience Center of Excellence
https://www.uprm.edu/inci/crc/ | https://coastalresiliencecenter.unc.edu/ | (787) 832-4040 Ext. 3815
Disclaimer: The views and conclusions contained in this document are those of the authors and should not be interpreted as necessarily representing the official policies, either expressed or implied, of the U.S Department of Homeland Security.
Acknowledgment: This material is based upon work supported by the U.S. Department of Homeland Security under Grant Award Number 2015-ST-061-ND0001-01.