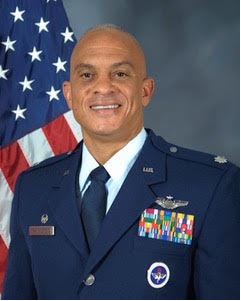 Lieutenant Colonel Eric E. Hamilton is Commander, Air Force Reserve Officer Training Corps, Detachment 756 and Director of Department of Aerospace Studies, University of Puerto Rico-Mayaguez. He is responsible for recruiting training, motivation, and developing officer candidates into Air Force commissioned officers through a comprehensive college program comprised of fundamental Air Force doctrine, academic instruction and practical leadership experiences.
Lieutenant Colonel Hamilton was commissioned through the Reserve Officer Training Corps program at North Carolina State University in 1991 with a B.S. in Mechanical Engineering, and Master of Mechanical Engineering in 1993. As a trained pilot, Lieutenant Colonel Hamilton has flown various aircrafts with over 8000 flying hours primarily in KC-135R, E-6B, C-9B aircrafts. He has served as the Air Operations Officer at USCENTCOM, and prior to his assignment Chief of Air Reserve/ANG supporting Special Operations Forces for SOCOM.
Detachment 756 Cadre
Lt Col Eric E. Hamilton, Commander
Maj Roxanna M. Figueroa, Operations Flight Commander
Capt Juan J. Cintron, Recruiting/Education Officer
TSgt Paul Sanchez, NCOIC Director of Personnel
TSgt Lindsay Owens, NCOIC Administration
Ms. Erudilia Muñoz, Secretary
AFROTC Detachment 756
University of Puerto Rico-Mayagüez Tuesdays & Thursdays
Mayagüez, P.R. 00681-5171 Hours: 700-1500
Office: (787) 832-4040, Ext. 3382, 3386 Walk-ins are welcome!
Email: det756@us.af.mil
Copyright © 2018 DET 756. ALL RIGHTS RESERVED. Page Updated as of: January 2020 | Privacy Statement | Freedom of Information Act | Legal