Author: Jose A. Rivera, Ph.D.
Institution: NOAA Fisheries
Year: 2006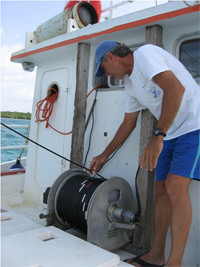 Located on the west coast, the Cabo Rojo shelf is the widest section of the Puerto Rico (PR) shelf, comprising a diverse mosaic of benthic habitats including well developed deep reefs, at least three known spawning aggregation (SPAG) sites, three of the six federal U.S. Caribbean MPA's and longstanding and intense fishing activities. During the fish biomass hydroacoustic surveys of 2002 and 2003 (HTI, 2002 and 2004), the west coast of PR had the third highest density values when compared to the rest of the island (Figure 1). Only Mona and Desecheo islands had higher densities. The influence of fresh water discharge from the Yagüez and Guanajibo rivers, as well as industrial and domestic effluents, combined with an important depth gradient greatly limited available habitat mapping generated from NOAA aerial photographs during 1998 (NOAA, 2002, see Figures 2 and 4). As a consequence, extensive areas of the Cabo Rojo shelf lack habitat information, needed to evaluate pattern of habitat change, location and performance of fishery resources, and MPA effectiveness, among others.
Since 1998, in the U. S. Caribbean, side scan sonar (SSS) mapping initiative of the insular shelf was started under federal and local government funding (Prada, 2002, Appeldoorn, et al, 2001). This project will give continuity to those efforts by looking at generation of high resolution habitat mosaics and maps based on SSS technology on the Cabo Rojo shelf. The results obtained will complement information available for La Parguera, Lajas (Prada, 2002), San Juan Bay estuary, and Caño Luis Peña Marine Fishery Reserve, Culebra within PR. The results are also comparable with recent work done in the U.S. Virgin Islands at the Marine Conservation District (MCD) south of St. Thomas, the National Park Service, St. John's National Coral Monument, Lang Bank and Mutton Snapper closed areas in St. Croix (Geophysics GPR, 2003). Indeed, the proposed work builds on the first two years of CCRI habitat mapping funding of the Cabo Rojo shelf. The final goal is to complete the entire shelf with an extension of 193, 1 nm2. The results of the proposed work will make PR and the USVI the first Caribbean coral reef dominated shelf having detailed sonar imagery habitat information. Coral reef systems complexity require the high resolution mapping to address multiple scale ecological processes taking place within one of the most complex ecosystems on Earth.
---
References & more