En la entrevista de hoy conversamos con la doctora Dra. Claudia Patricia Ruiz-Diaz, investigadora Auxiliar en el Departamento de Ciencias Agroambientales en el Colegio de Ciencias Agrícolas del Recinto Universitario de Mayagüez. La doctora Ruiz, nos habla hoy sobre Clima y Manejo de la Broca del Café en Puerto Rico.
Nombre del Proyecto: "Areawide IPM of Coffee Berry Borer in Puerto Rico"
Fondos: This research was funded through the United States Department of Agriculture Area-Wide
project (NACA 58-2040-6-007) and APHIS AP19 PPQS&T00 C181 granted the University of Puerto
Rico, Agricultural Experiment Station.
Para obtener más información sobre el manejo de la broca del café se pueden comunicar con la Dra. Claudia Patricia Ruiz-Diaz, al siguiente correo electrónico: claudia.ruiz2@upr.edu.
Notas: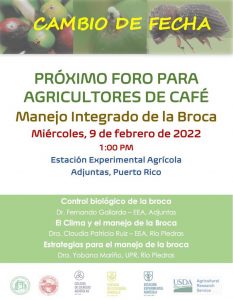 Podcast: Play in new window | Download
Subscribe: Apple Podcasts | Spotify | Email | RSS