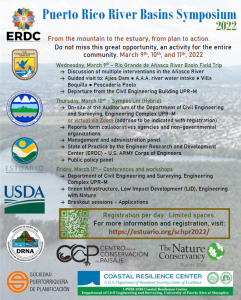 We encourage you to stay attentive to the event website (https://estuario.org/schpr2022/) for more details. We will keep on record all the people who had already registered for the event in January, and we will be informing the link for the event prior to the new date in March 2022.
We appreciate your interest and encourage you to follow the preventive measures recommended by health professionals to minimize exposure and the risk of contracting this disease. We also invite you to visit our web portal for interactive distance learning training (crc-uprm-dhs-lms.uprm.edu), where you can have access to various seminars/training related to resilience and coastal infrastructure. Upon completion of the seminars, you will be able to receive a Certificate of Participation and accumulate continuing education hours.
See original flyer here.
---
UPRM-DHS Coastal Resilience Center of Excellence
https://www.uprm.edu/inci/crc/ | https://coastalresiliencecenter.unc.edu/ | (787) 832-4040 Ext. 3815
Disclaimer: The views and conclusions contained in this document are those of the authors and should not be interpreted as necessarily representing the official policies, either expressed or implied, of the U.S Department of Homeland Security.
Acknowledgment: This material is based upon work supported by the U.S. Department of Homeland Security under Grant Award Number 2015-ST-061-ND0001-01.