UPRM Alumni Panel (via Zoom) Virtually meet recent UPRM grads on Thurs, Sept 9th @ 5:30P AST
UPRM SoCo Career Dvpt Day Join Southern Company via Zoom on Sept 21st from 5:30 – 6:30P AST for professional development and networking – this will help you prepare for the upcoming Career Fair on 10/1!
UPRM Virtual Info Session Learn how we plan to be carbon-free by 2050 & invest in the #future! Join us here on Sept 28th @ 5:30P ET
UPRM Virtual Career Fair (10/1) Haven't been able to connect with us yet? Here's your chance – act fast! REGISTRATION HIGHLY ENCOURAGED VIA UPRM PLACEMENT OFFICE
STEP 1: Apply Online
Apply here before Sept. 28th
Co-op/Intern roles: https://bit.ly/3iR5AUW
Full-time: https://bit.ly/2VZxkOI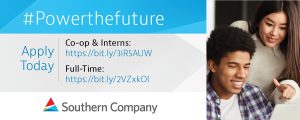 STEP 2: UPRM Events
Let's Connect- the more we "see" you, the better, even if it is virtually – let's #powerthefuture!
STEP 3: UPRM Interviews
Interviews will be held virtually on October 5th & 6th – you will be notified if you are selected.
See full flyer here.
Questions? Answers: https://southerncompany-campus.jobs/ and https://bit.ly/38jWnOR
Campus Contact: Giuli Williams / Email: gabiondi@southernco.com / Lets Connect on LinkedIn!
---
*RUM acts as a facilitator in the dissemination of the advertisement for the benefit of our students and graduates, but is not responsible for the content or the hiring process. For more details, please contact the recruiting company directly.*