UPR-NSF Earth X-ray Analysis Center
The UPR-NSF Earth X-ray Analysis Center (EXACt) was established under the NSF-MRCe program and is supported by the University of Puerto Rico at Mayagüez under the aegis of the Department of Geology.  It contains state-of the art instruments for the chemical analyses of solids and elucidation of their structure, and the imaging of surface textures of solid material.

The EXACt is a research laboratory of the Department of Geology and only has a very limited support staff. It is not a service laboratory, however it is the only laboratory of its kind in the Caribbean and researches from academia, industry and government may apply to use the instruments.  All applications will be evaluated based on their scientific merit, the need to use the instruments to obtain useful data pursuant to well defined scientific goals of a project, and current and planned instrument use schedules.  Successful researchers will be granted time on the instruments following the priorities established bye the Department of Geology.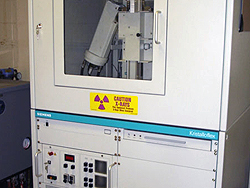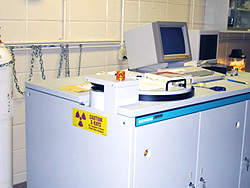 Please note: It is the obligation of the user to backup the data obtained.  Data will be held by the laboratory for thirty (30) days, after which it may be eliminated from departmental files.
CONTACT:

Sr. Miguel Santiago
Lab. Instrumentation Specialist
Office: F-304
Phone: 787.265.2490
e-mail: santiagom@uprm.edu
See the PDF Document RADIATION SAFETY
See the Radiological Health PDF Document -Spanish Version-

See the manuals SOP X Ray Equipments
SOP Cameca SX-50 Electron Microprobe

SOP Cathodoluminescence Microscope

SOP Siemens XRD Diffraktometer D5000

SOP Siemens XRF SRS

See the X Ray PDF
Electronmicroprobe
Class #1

Class #2

Class #3

Class #4

Class #5

Class #6
UPR-NSF X-ray click here for more information (new form as PDF file)