The position announcements are tentatively scheduled to be posted the either the last week of November (11/29 – 12/3) OR the first week of December (12/6 – 12/10).
The announcements will be open for FIVE (5) DAYS ONLY!
We would strongly recommend any potential applicants to have their application materials prepared no later than November 27th.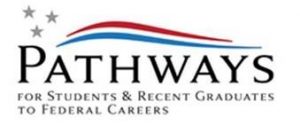 UPCOMING PATHWAYS PROGRAM POSITIONS
Disclaimer: The table below is non-exhaustive. Please visit EPA's website and USAJobs for additional details and information.
PROGRAM
WHO'S ELIGIBLE?

POSITIONS/SERIES

PATHWAYS RECENT GRADAUTES
Recent graduates who completed a qualifying: Associates, Bachelors, Masters, Professional, Doctorate, Vocational or Technical Degree or Certificate within the last two (2) years or six (6) years for Veterans from the date of the announcement.

Includes current students expected to graduate in May/June 2022. (If you meet this criterion, we recommend applying for BOTH Recent Graduate and Student Intern positions)

Environmental Protection Specialist (GS – 7/9)

Interdisciplinary (STEM) (GS – 7/9) including, but not limited to:

· Biologist

· Engineer

· Toxicologist

· Physical Scientist

· Chemist

· Information Technology (IT)

PATHWAYS STUDENT INTERNSHIP
Currently enrolled college students:

· Sophomores

· Juniors

· Seniors

· Graduate School

Students can work through the school year as well as the summer

EPA Intern

· Sophomores (GS-2)

· Juniors (GS-3)

· Seniors (GS-4)

· Graduate School (GS-5)

Interns can be converted to a permanent employee if they meet the program requirements upon graduation

LEGAL INTERN
Current law degree-seeking students enrolled in an accredited institution as recognized by the U.S. Department of Education.
Legal Intern (GS-7)
We encourage interested applicants to set up alerts for these announcements in advance, so you are notified as soon as the announcements are posted.
In the job announcement look for the "This job is open to" section.
There may be other groups listed that can also apply. You can also select the Students or Recent Graduates filter. Your results will display all jobs open to students and recent graduates.
We encourage applicants to use the attached resources to help structure their resumes, cover letters, and navigating USAJobs.
USAJobs also provides resources and webinars to help with navigating the website and preparing your application materials (resumes, transcriptions,.
Tuesday, November 23, 2021 @ 3:00 PM (EST)
Tuesday, November 30, 2021 @ 11:00 AM (EST)
Wednesday, December 1, 2021 @ 3:00PM (EST)
Monday, December 6, 2021 @ 1:00PM (EST)
Good luck!