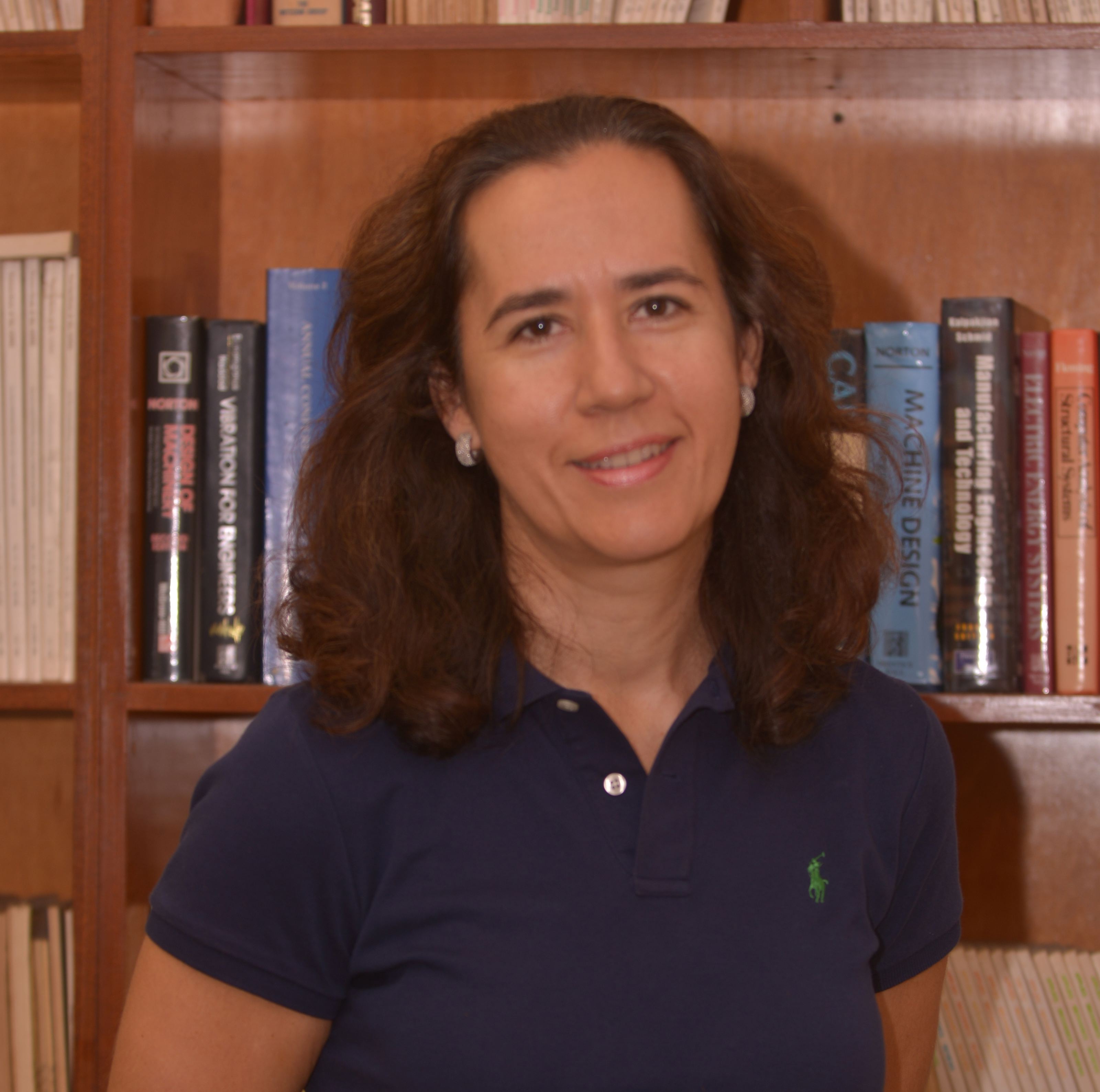 Sandra Coutin, Ph.D
Professor
Education
| | |
| --- | --- |
| | Kansas State University, USA, 1996 |
| | Kansas State University, USA, 1992 |
| | Universidad de Puerto Rico, Mayaguez, PR, 1990 |
Background
| | |
| --- | --- |
| | Professor, University of Puerto Rico at Mayagüez, Department of Mechanical Engineering |
| | Associate Professor, University of Puerto Rico at Mayagüez Department of Mechanical Engineering |
| | ABET Accreditation Coordinator, Mechanical Engineering Department |
| | Assistant Professor, University of Puerto Rico at Mayagüez, Department of Mechanical Engineering |
| | Kansas State University, Graduate Teaching Assistant |
| | Università degli Studi di L'Aquila, Dipartimento di Energetica (Department of Energy), Mechanical Engineering Department, L'Aquila, Italy. Visiting Research Assistant. |
| | Georgia Institute of Technology, Graduate Research Assistant (Spring Quarter) |
| | Kansas State University, Graduate Teaching Assistant |
| | AT&T Bell Laboratories, Atlanta, Ga., Mechanical Engineer, Lightguide Cable Department |
| | AT&T Bell Laboratories, Atlanta, Ga., Research Assistant in the Military Cable Department |
Courses Taught
Thermodynamics I (INME4001)
Thermodynamics II (INME4002)
Design of Thermal and Fluid Systems (INME4003)
General Thermodynamics (INME4045)
Heat Transfer (INME4015)
Solar Energy (INME5007)
Special Projects (INME4995)
Undergraduate Research (INME4998)
Radiation and Conduction Heat Transfer (INME6055)
Advanced Thermodynamics I (INME6001)
Publications
S. Coutin-Rodicio and K.S. Chapman, A Steady State Three Dimensional Thermo-Fluid Mathematical Model of A Continuous Glass Furnace, HTD-Vol. 353, proceedings of the ASME Heat Transfer Division Volume 3, ASME 1997
S. Coutin-Rodicio and K.S. Chapman, Parametric Studies of A Steady-State Continuous Glass Furnace, Journal of Glass Technology, Vol. 41, No. 1, 2000
S. Coutin-Rodicio and K.S. Chapman, Application of the Discrete Ordinates Method to Continuous Glass Furnaces, Conference Proceedings of the ASME Congress '99, Nashville, HTD-Vol. 364-3, pp. 315-322
S. Coutin-Rodicio, D. L. Fenton and F. Feuerborn, Ammonia and Ammonia-Hydrogen Mixtures As An Alternative Spark-Ignition Internal Combustion Engine Fuel, Sixth International Conference in Technologies and Combustion for A Clean Air, Oporto (Portugal), 2001; pp. 875-881
S. Coutin-Rodicio and B. Restrepo, Considerations of The Scattering Effects in The Glass As A Participating Medium Using The Discrete Ordinates Method, Proceeding of 2001 ASME International Mechanical Engineering Congress and Exposition, New York (NY), HTD-TOC, IMECE 2001/HTD-24267.
S. Coutin-Rodicio, J. Bailón-Cuba and A.Y. Khan, Analytical study of the transient response of a hydronic ceiling radiant panel, 9th. Latin American Conference of Heat and Mass Transfer, October 2002, San Juan (PR).
V. Marrero, S. Coutin, J.Panek, Thermal model and experimental validation of the re-design of high temperature superconducting leads for x-ray spectrometer applications, Intl. Mechanical Engineering Congress and RD&D Expo, (2004), IMECE-59361
S. Coutin-Rodicio, A. Chaves-Guerrero, F. Just; Simulación matemática y estudio paramétrico del método térmico empleado en la detección de daňos en materiales compuestos tipo carbono-carbono, Revista Internacional de Desastres Naturales, Accidente e Infraestructura Civil, (2005), pp. 32-38.
S. Coutin, A. Chaves, F. Just, A thermal analysis approach for the detection of damage in carbon-carbon type composite, J. of Composite Materials, 2006 (in press)
Awards
NASA Space Consortium Fellowship, 1991
Patricia Robert Harris Fellowship, 1992
Engineering Excellence Awards for Low-Income Minority Students, NSF; R. Zapata, S. Coutin, G. Colón, G. Beauchamp, N. Artiles; $275,000, (2000-2002)
Engineering Excellence Awards for Low-Income Minority Students, NSF; R. Zapata, S. Coutin, G. Colón, G. Beauchamp, N. Artiles; $275,000, (2002-2004)
Affordable processing and dynamic characterization of sandwich composite materials used in stealth application, DoD-ONR; F. Just, S. Coutin, B. Shafiq, N. Mehta, D. Serrano; $463,000; (2001-2004)