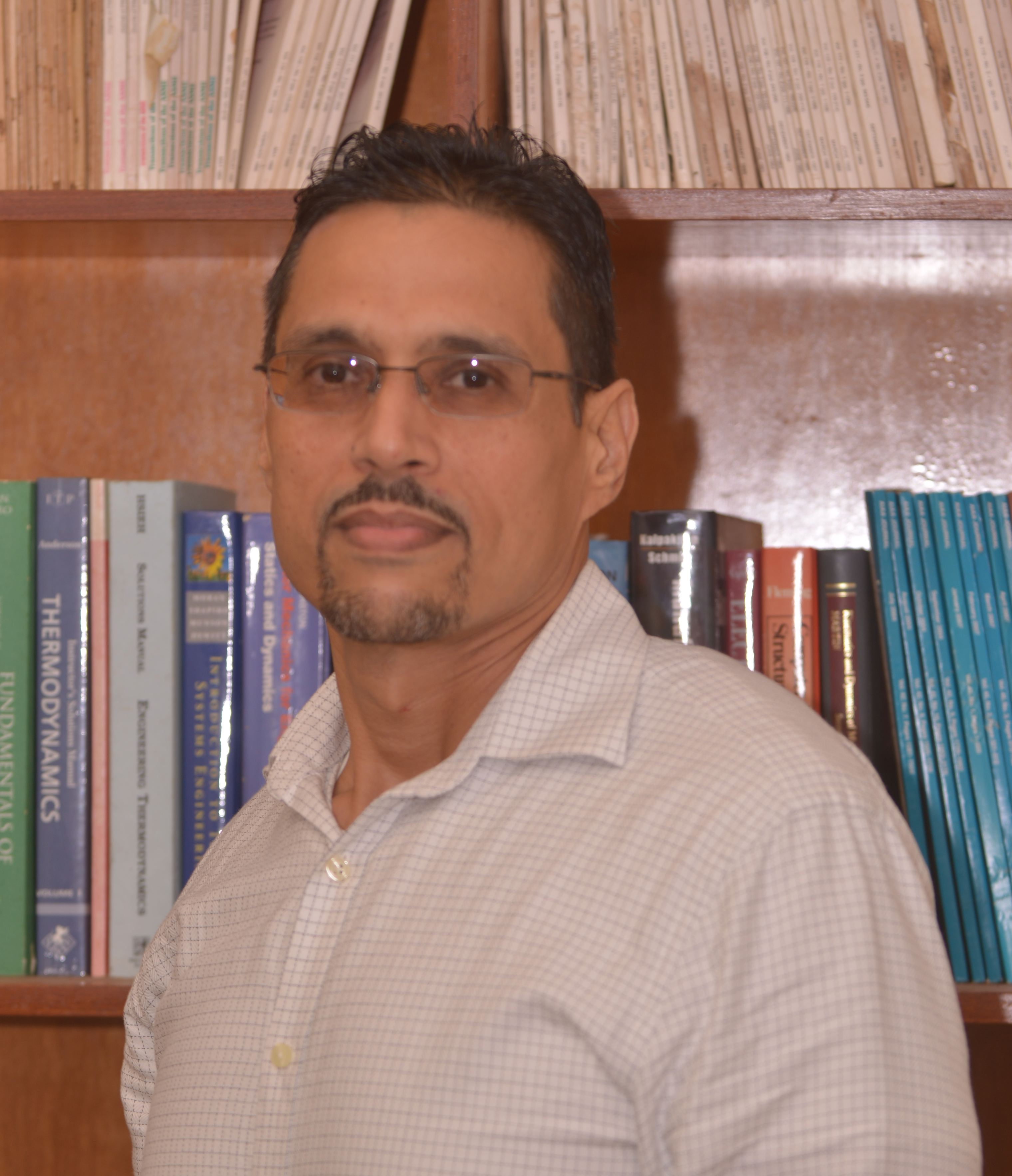 Francisco Rodriguez Robles, Ph.D
Professor
Education
| | |
| --- | --- |
| | University of Dayton, 2003 |
| | Universidad de Puerto Rico, Mayaguez, USA, 1997 |
| | Universidad de Puerto Rico, Mayaguez, PR, 1990 |
Background
| | |
| --- | --- |
| | Professor, Department of Mechanical Engineering, University of Puerto Rico at Mayaguez |
| | Associate Professor, Department of Mechanical Engineering, University of Puerto Rico at Mayaguez |
| | Assistant Professor, Department of Mechanical Engineering, University of Puerto Rico at Mayaguez |
| | Various professional engineering positions within the federal government and the private sector |
Academic and Professional Leadership
Materials Research Society, Member
UPRM-MED Thermal Sciences Committee
UPRM-MED Micro & Nanoscale Engineering Systems and Advanced Materials Characterization Laboratory, Co-Founder
Conference Publications
Caceres-Valencia, P.G., Rodriguez, F., (2005), Low Temperature Synthesis of Nanostructured c-Fe5C2 Platelets in CO + H2 Atmospheres, Science & Technology of Powder Materials
Rodríguez, F., Glawe, D.D., Naik, R.R., Hallinan, K.P., Stone, M.O., (2003), Electrostatic and Hydrodynamic Fields Influence on In Vitro Polycationic Peptide-Mediated Silica Biomineralization, Mat. Res. Soc. Proc., 822, H3.33
Glawe, D.D.; Rodríguez, F.; Stone M.O.; Naik, R.R., (2004), In Situ Protein Directed Silica Biomineralization Mat. Res. Soc. Proc., 823, W4.17
Naik, R.R.; Kramer, R.M.; Carter, D.; Li, C.; Brott, L.L.; Rozenzhak, S.M.; Sowards, L.A.; Rodriguez, F.; Stone, M.O., (2004), Hybrid Protein-based Frameworks for the Creation of Inorganic Structures Mat. Res. Soc. Proc. 2004, 823, R6.1
Major Peer-Reviewed Journal Publications
Rodríguez, F., Monroig F., (2014), Parametric Thermodynamic Models of Parchment Coffee Beans during HARC2S Dehydration, Journal of Food Processing and Technology, Vol. 5, Issue 5, pp 1-7
Rodríguez, F., Monroig, F. Serrano, D., (2013), Application of an Energy Efficient Hot Air Recirculation Controlled Closed System Environment for Parchment Coffee Dehydration in Puerto Rico, American Journal of Agricultural Science, Engineering and Technology, Vol. 2, Issue 5, pp 1- 10
Rodríguez, F., Glawe, D.D., Naik, R.R., Hallinan, K.P., Stone, M.O., (2004), A Study of the Chemical and Physical Influences upon In Vitro Peptide-Mediated Silica Formation, Biomacromolecules Vol. 5, pp. 261-265.
Glawe, D.D., Rodríguez, F., Stone, M.O., Naik, R.R., (2005), Polypeptide-Mediated Silica Growth on Indium Tin Oxide Surfaces, Langmuir, Vol. 21, pp. 717-720
Naik R. R., Rodriguez F., Agarwal G, Brott L. L., Kirkpatrick S. M, & Stone M. O., (2003), Bio-Inspired & Biologically-Derived Materials for Coatings. Prog. Org. Coatings Vol. 47, pp 249-255.
Rajesh R. Naik, Patrick W. Whitlock, Francisco Rodríguez, Lawrence L. Brott, Diana D. Glawe, Stephen J. Clarson and Morley O. Stone, (2003), Controlled Formation of Biosilica Structures In Vitro, CHEM. COMM. Vol. 2, pp. 238–239
Theses
Rodríguez, F., (2003), Experimental Approach to the Chemical and Physical Impact on In Vitro Polycationic Peptide-Mediated Silica Biomineralization, Ph.D. Thesis, University of Dayton, Dayton, Ohio.
Rodríguez, F., (1997), Analysis and Comparison of Conventional and Non-Conventional Cooling and Dehumidification Systems for Application in Puerto Rico, M.Sc. Thesis, University of Puerto Rico, Mayagüez, Puerto Rico.
Awards
NAWC-AD Outstanding Project Award for Propulsion Systems Basic & Applied Research, NAVAIR Patuxent River, MD, 2016
Dayton Area Graduate Studies Institute (DAGSI) Full Scholarship, Dayton, Ohio, 2000-2003
U.S. Air Force Notable Achievement Award, Wright-Patterson AFB, Ohio, 2000
U.S. Air Force Notable Achievement Award, Wright-Patterson AFB, Ohio, 1999
UPR-RUM Graduate School Full Scholarship, Mayagüez, Puerto Rico, 1995-1997
U.S. Navy Commendation Medal, Naval Air Facility, El Centro, California, 1994
School of Engineering Honor Roll, University of Puerto Rico, 1988-1990
School of Arts and Sciences Honor Roll, University of Puerto Rico, 1986-1988
General Research Interests
Thermal Sciences
Energy Conservation and Optimization
Systems Parametric Modeling:
        – Thermodynamics
        – Fluid Mechanics
        – Transport Phenomena