Dear Friend of the Chemical Engineering Department of UPRM:
As most of you know, the Chemical Engineering department of the University of Puerto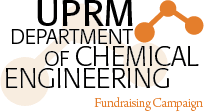 Rico at Mayagüez is one of the largest undergraduate departments of Chemical Engineering in the US with ~100 BS graduates per year. In addition, since the year 2000 we started a PhD program that has soon become one of the best PhD programs in PR and the largest Hispanic PhD graduating program in the US with ~25 PhDs in the last five years. However, maintaining the strategic balance between a sound undergraduate program and the research growth of a PhD program is never easy. In order to achieve this goal, our 28 faculty members contribute in diverse sectors to balance our strengths and create synergistic growth.