Undergraduate Curriculum
UPRM operates in semesters. Each semester comprises a 15-week conference period and 1 to 2 weeks of finals. The Bachelor of Science in Chemical Engineering is a 5-year (i.e. 10 semesters) program with 160 credit-hours. Below is the latest curriculum, approved for implementation at the beginning of the academic year 2022-2023. This curriculum applies to all new admissions (i.e. freshmen), re-admissions, and transfers (including those from articulated programs) from that date, thereafter.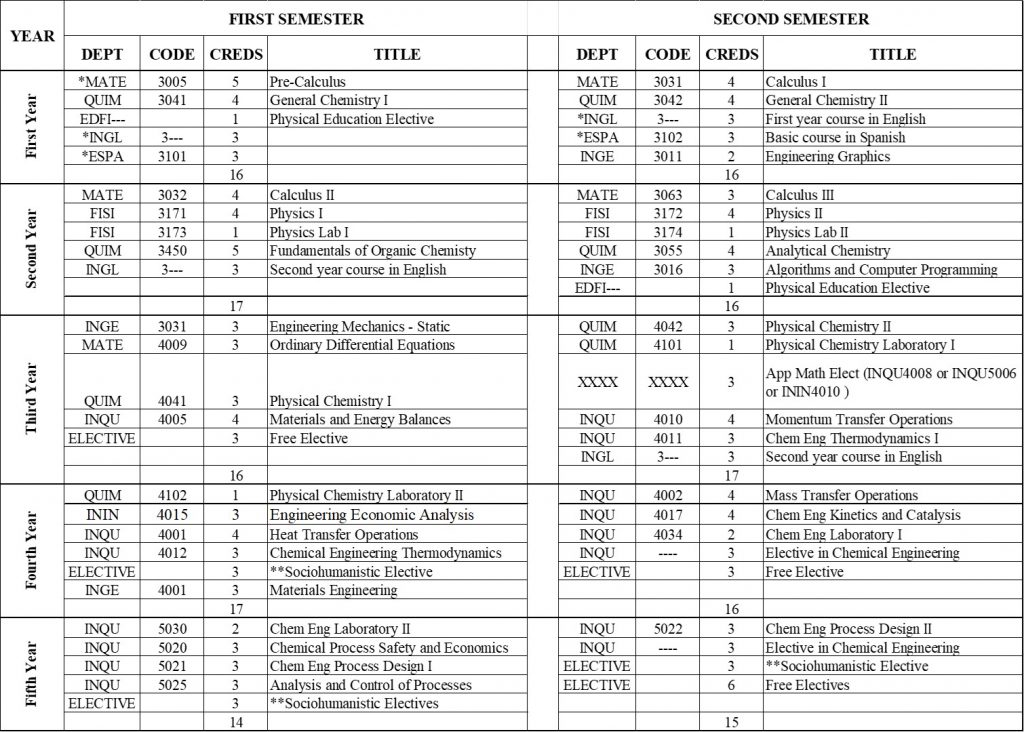 The flowchart below shows the pre-requisite and co-requisite sequence of courses in the curriculum.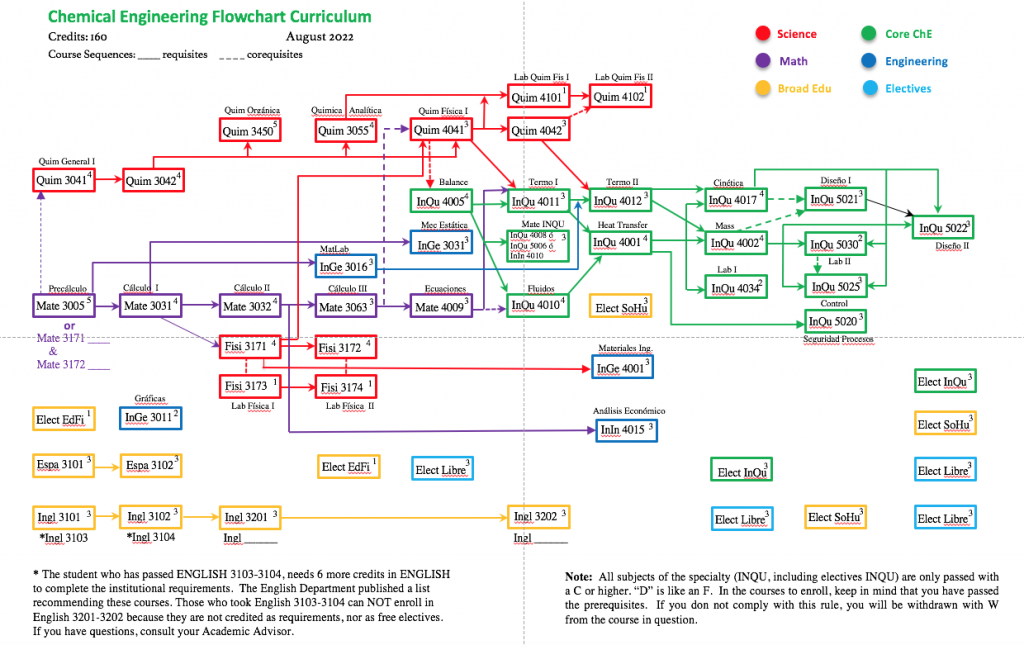 The required courses are divided in general areas as follows:
| | |
| --- | --- |
| Course Area | Credits |
| Languages (Spanish & English) | 18 |
| Physical Education | 2 |
| Preparatory Math (Pre-Calc) | 5 |
| College-Level Math | 14 |
| Basic Sciences (Chemistry & Physics) | 35 |
| General Engineering Topics | 17 |
| Chemical Engineering Topics | 48 |
| Socio-Humanistic Electives*1 | 9 |
| Free Electives ** | 12 |
| Total | 160 |
* Socio-Humanistic electives are to promote the social and cultural awareness necessary to succeed in today's diverse workforce. These courses are scattered through the curriculum to provide a balance to technical courses. Courses in this area must be selected from the list approved by the engineering faculty to meet this requirement.
1 At least three (3) credits most be selected from the list of approved socio-humanistic elective courses with a significant Ethics content.
Check Undergraduates' Documents and Links section, for list of approved courses.
** Free electives allow students the liberty to enrich their education by taking other general interest courses, or taking other technical courses to expand their knowledge base. There are no restrictions, as long as the course content is not equivalent to that of required courses or previously taken.
For previous curriculum versions and instructions for curriculum changes, check the Documents and Links section on the Undergraduate menu.