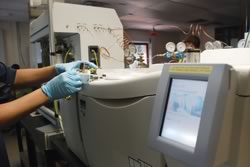 The purpose of the doctoral qualifying examination is to assess at an early stage if he/she possesses the necessary intellectual skills and knowledge to earn the degree of doctor of philosophy in Chemical Engineering. This assessment is based on the student's performance in four written subject examinations. The exam is prepared by faculty members and overseen by the Qualifying Exam Coordinator, who is a member of the Graduate Committee. The qualifying examination is offered twice during the first year whenever there at least two students to take it. New students must approve the qualifying exam before the beginning of the second year of full admission into the doctoral program. According to UPRM's regulations, students have two opportunities to pass the exam. A second failure will result in the student's dismissal from the UPRM graduate programs. The doctoral qualifying examination consists of four, two-hour subject examinations on the topics of:
Thermodynamics
Momentum and energy transport
Mass transport
Chemical kinetics and reactor design
Problems included are at the undergraduate level. The four subject examinations are offered in two non-consecutive days, one day apart. Each exam is prepared and graded anonymously by a member of the department faculty. This is a double-blind test, where the student does not know the evaluator's identity and vice versa. Subject examinations are closed-book. A handout containing standard formulas of the topics examined will be provided.