Become a faculty member of the UPRM family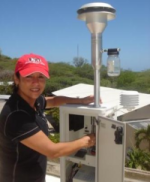 The College of Engineering of the University of Puerto Rico Mayagüez (UPRM) is one of four UPRM  Colleges in the Mayagüez Campus. With an enrollment of about 4,000 undergraduate students and about 400 graduate students, the College is the largest of its kind in Puerto Rico, and the first producer of Hispanic engineers in the United States of America, according to the American Society of Engineering Education (ASEE).
All our programs are accredited by the Engineering Accreditation Commission of the Accreditation Board for Engineering and Technology. The College of Engineering of the University of Puerto Rico at Mayagüez (UPRM) seeks candidates for several tenure-track positions in different areas of Engineering. Preference will be given to entry-level candidates at the Assistant Professor level, but candidates with higher qualifications may be considered for higher-level positions.
Minimum Requirements
Doctor in Philosophy degree from an accredited institution and completion of all requirements by date of hire. Must demonstrate the potential for excellence in teaching and research in listed areas of Engineering. Proven experience in Research in the required Engineering discipline. Excellent performance in teaching undergraduate and graduate courses will be expected of the selected candidates. Aiming at developing a sustained mentoring program of graduate students. Ability to work in a multidisciplinary environment. Excellent oral and written communication skills in English. Desirable working knowledge in Spanish or willingness to learn.
Faculty responsibilities include teaching graduate and undergraduate courses, coordinate undergraduate teaching laboratories, develop a successful externally-funded research program in the required area of expertise, maintain an internationally recognized research program, publish research work in peer-reviewed conferences and journals, mentor graduate students, participate in faculty committees, professional service, institutional assessment (e.g. ABET) and improvement activities.
How to apply
Send the following documents address below or send PDF to the e-mail provided:
1. Curriculum Vitae
2. Undergraduate, Graduate, and PhD transcripts
3. Detailed Research and Teaching Plans (1-2 pages)
4. Three (3) Professional References
5. Copies of relevant publications
Faculty Recruitment Committee
Department of ___________Engineering
Call Box 9000, Mayagüez P.R. 00681-9000
Closing Date: applications will be considered until positions are filled
AN EQUAL OPPORTUNITY EMPLOYER – M/F/V/I
Telephone (787) 832-4040 x2016, x3825 / (787) 265-3825
University of Puerto Rico
Mayagüez Campus
College of Engineering