Office of Accreditation, Assessment and Continuous Improvement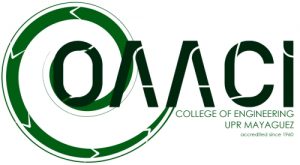 Assessment is an integral part of any high-quality educational program.  It is defined as the systematic and documented process of obtaining evidence of learning and evaluating it effectively.  This process, when performed critically and with the feedback from the appropriate constituents (e.g., students, faculty, alumni, advisory boards, etc.), should lead towards the continuous improvement of the institution and its academic programs.
The College of Engineering of the University of Puerto Rico at Mayagüez (UPRM) performs assessment at various levels.  The first level of assessment is at an institutional level, where the University of Puerto Rico is evaluated by the Middle States Association of Colleges and Schools Commission of Higher Education (MSA-CHE) (http://www.msche.org). The UPRM has been accredited by MSA-CHE since 1946. The second level of assessment is performed at the program-level, where programs offer bachelor in science (BS) degrees in various Engineering disciplines (Chemical, Civil, Computer, Computer Science and Engineering, Electrical, Industrial, Mechanical and Software Engineering) and related fields such as Surveying and Topography.  The accreditation of the Engineering programs at the BS level is performed by ABET commissions (http://www.abet.org).  Our Chemical Engineering, Civil Engineering, Computer Engineering, Electrical Engineering, Industrial Engineering, Mechanical Engineering and Software Engineering programs are accredited by the Engineering Accreditation Commission of ABET. The Surveying and Topography program is accredited by the Applied and Natural Sciences Commission of ABET and the Computer Sciences and Engineering program has dual accreditation by the Computing and Engineering Accreditation Commissions of ABET.
The assessment culture of the College of Engineering is based on making data-driven-decisions and critically analyzing whether the educational processes are conducted at their optimal level with a continuous improvement approach.