"Designing, Manufacturing and Testing Stem Cell Derived Tissue Engineered Constructs"
Place: IQ-004 (Amphitheater)
Hour: 10:30 am – 12:00 pm
Date: March 17, 2016
Speaker: Danny Freytes
Abstract:
With the possibility of creating embryonic stem cell banks and the existence of induced pluripotent stem cells, it is theoretically possible to obtain every cell type in the human body and to assemble them into engineered constructs capable of restoring damaged tissue function. However, many challenges remain that hinder our ability to build fully autologous functional tissues. Among the challenges we face include the design of appropriate scaffolding materials, the control of cellular growth and differentiation, the manufacturing of sufficient cells to restore function and the ability to test engineered constructs in a physiologically meaningful way. The seminar will address some of these challenges and how we can tackle them to improve our existing strategies and how to achieve the next level of tissue engineered constructs. How we address these issues will have a profound impact on how the next generation of tissue engineered constructs will translate into viable therapeutic products.
Biography:

Dr. Freytes began his academic studies as an undergraduate mechanical engineering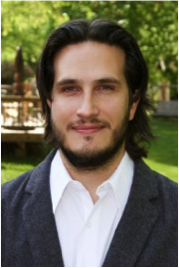 student at Purdue University where
he first got interested in biomedical engineering.  After completing a master's degree in Biomedical Engineering at
Purdue, he continued his graduate training at the University of Pittsburgh where he received his PhD in Bioengineering developing novel biomaterials based on the derivation of extracellular matrix from different tissues. After completing his graduate work, he moved to Columbia University for his postdoctoral training where he developed advanced culture systems and derived cardiac tissues from human embryonic stem cells. During his postdoctoral training, he received a Fellow-to-Faculty Award in Stem Cell Research from the New York State Department of Health. Dr. Freytes later joined the NYSCF Research Institute as a principal investigator (currently a senior research fellow) where he led a research group that focused on the development of in vitro platforms that mimic the inflammatory environment. Dr. Freytes is now an assistant professor in the Joint Department of Biomedical Engineering at the North Carolina State University and the University of North Carolina – Chapel Hill.  His research currently centers on mimicking important events following a heart attack to engineer better cardiac tissues. In addition, his research group derives extracellular matrix scaffolds to guide stem cell differentiation towards specific tissue linages.
Do not miss it!