GREAT NEWS:  Central Federal Lands Highway Division (CFLHD) is excited to announce the advertisement of multiple Civil Engineer Pathways Recent Graduates (GS 810 5/7/9) positions in Lakewood, Colorado.
Link to advertisement–FHWA.CFL-2021-0033:
Civil Engineer (Highway) — Pathways Recent Graduates
This announcement will close on January 3, 2022.
Are you interested in….
working in some of the most beautiful National Parks, National Forests, and other federal lands across the western U.S.? 
working for an agency with a focus on its people, partners, and projects?
having fun with your colleagues while working in a challenging and innovative environment?
Then Central Federal Lands Highway is the place for you!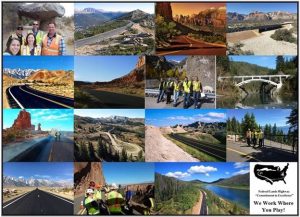 These pictures are of some of our team members taken at some of our project sites!  We work where you play!
The ideal candidate for this position is an entry to beginning level technical engineer who has a desire to learn about the various aspects of technical highway engineering, including but not limited to, highway design, construction, bridge, geotechnical, survey and mapping, hydraulics and materials testing. Candidates should have between 0 to 5 years of experience, be mobile and willing to travel to remote locations for extended periods of time and be able to work independently and in a team environment. Travel will be to various National Parks, National Forests and Wildlife Refuges within the 14-state region that CFLHD services. Travel demands will range anywhere from 10% to 75% of an employee's time per year, depending on assignments provided.
Who is CFLHD?  CFLHD is responsible for the design and construction of transportation infrastructure projects that provide access within and into federal lands in the central and western United States.  Our federal, state, and local partners rely on CFLHD to solve and manage unique program and project challenges that are wide-ranging in environment, geography, and complexity, through engineering solutions that are sensitive to the context of the beautiful places we work.
Location:  Our home office is located at the foot of the Majestic Rocky Mountains in Lakewood, Colorado (just west of Denver) and just minutes away from the famous Red Rocks Amphitheatre, some of America's very best ski resorts, hiking, mountain biking, and a variety of other outdoor activities.

Please consider this exciting opportunity and pass it along to others you think may be interested!
Thank you,
Kim Sheets,
HR Advisor/Liaison – CFLHD
720-963-3472
12300 West Dakota Ave
Lakewood, CO 80228
We Work, Where You Play!
---
*RUM acts as a facilitator in the dissemination of the advertisement for the benefit of our students and graduates, but is not responsible for the content or the hiring process. For more details, please contact the recruiting company directly.*