Join the English Department this and every Wednesday night in Chardón 319 for Diaspora Cine Nights 🎬! This Wednesday, October 17th, 2018 commencing at 7:30 p.m., we will view Pa'lante Siempre Pa'lante! The Young Lords (1996), produced by Iris Morales. For the first time, we are honored to share this experience with SPECIAL INVITED GUEST, Dr. Mary Anne Merrill-Ramírez, active member of the Milwaukee chapter of the Young Lords Party from 1970-1971, who will engage with us in a post-screening conversation.
We hope to see you and will welcome you with popcorn 🍿and homemade cookies 😋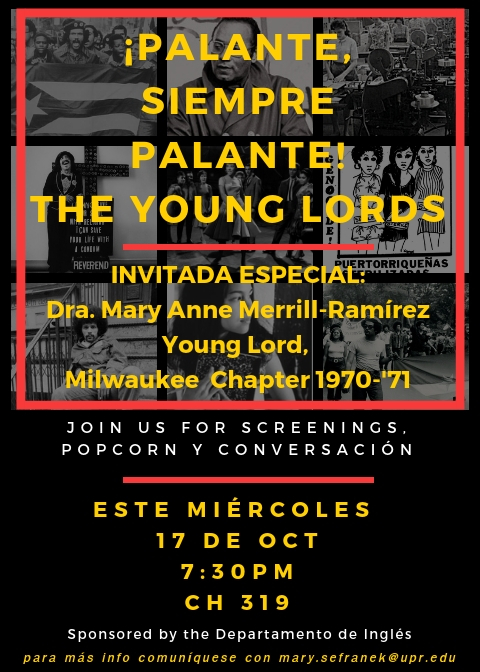 Upcoming film screenings include:
Almost a Woman (2002)
Piñeiro (2001)
Sugar Pathways (2010)
El Antillano (2014) by request only (due to technical difficulties, we watched this one on Sept. 12th in place of Every Child is Born a Poet).
Every Child is Born a Poet: The Life and Work of Piri Thomas (2002)
Vieques: Una batalla inconclusa (2015)