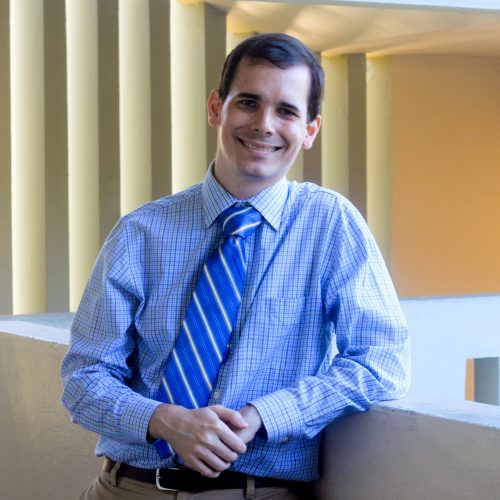 Rank: Temporary Professor
Education: Ph.D. in English and Cultural Arts – University of Rhode Island, Masters in English Education – University of Puerto Rico Mayagüez
Additional Involvements: Popular Culture Student Association (PCSA)
E-mail: gabriel.romaguera@upr.edu
Gabriel E. Romaguera has BA in English (Literature) and a Master's in English Education from UPRM. He earned his PhD in English from the University of Rhode Island in his dissertation, "To Start, Continue, and Conclude: Foregrounding Narrative Production" explores the author-text-reader relationship for classic and contemporary serial works of literature across different media. You can read it in its entirety for free here:
https://digitalcommons.uri.edu/cgi/viewcontent.cgi?article=1650&context=oa_diss
Romaguera's background in popular culture, Victorian literature, media studies, and
alternative pedagogy has been chronicled in multiple conferences throughout Puerto Rico, the United States, and Canada. His eclectic synergy of academic backgrounds is visible throughout any of the classes he has taught at the University of Rhode Island and currently at UPRM where he has been teaching since 2014. Romaguera continues to aid students in achieving their best selves through his teaching and extracurricular work, such as advising the Popular Culture Student Association (PCSA) and being a coach for UPRM's ENACTUS chapter for national and international competitions.
Outside of academia, Romaguera is tackling his own serial literary adventures with a
series of novels spanning different genres. His debut novel, Murder at Crimson Manor, is a dark comedy depicting the life of college students with the worst housemate in the world. You can buy it here: https://www.amazon.com/Murder-Crimson-Manor-Gabriel-Romaguera/dp/0978881494/ The second novel in the series, Arson at Crimson Manor is a supernatural horror with a side of romance and is currently under narrative production.