We are pleased to launch the first of our retired faculty profiles with a profile of a beloved retired colleague, Joan Baker-González.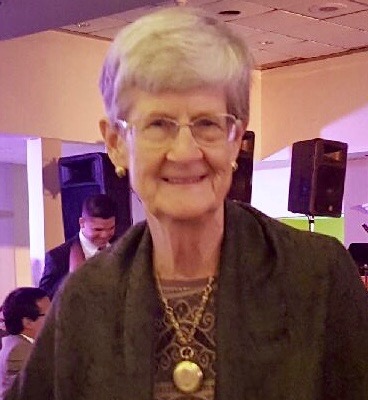 Joan Baker-González was born and raised in Milwaukee, Wisconsin. After graduating from high school there, she went to Brown University in Providence, Rhode Island for her undergraduate work, receiving a BA in English Literature and Linguistics (magna cum laude) in 1962. After a year in the Department of Linguistics at the University of Washington in Seattle, she returned to the University of Wisconsin in Madison where she studied Educational Psychology (MS 1965) and got her secondary teaching certification in English and French. Her first teaching job was at Washington Lee High School in Arlington, Virginia where she taught 12th grade English and started English as a Second Language classes for the non-native English speakers in the school. Joan met her husband, Rafael González, while teaching at Washington-Lee. They were married in 1966 and their two sons, Eric and Evan, were 4 and 1 when they moved to Puerto Rico in 1972.
Joining the faculty of the Department of English at RUM in August, 1973, Joan Baker's background in linguistics and language learning was unique in the department at the time, and the Associate Director asked her to teach two sections of Pre-basic English, chair the course, and teach two sections of 3101 that first fall. Her major contribution to the department was determined that first year; off and on she served as Chairperson for either pre-basic or basic English and routinely developed, with other faculty who taught these courses, materials for the course-related language lab requirements. The lab manuals for English 3101 and 3102 included readings, vocabulary, pronunciation and grammar exercises. For many years, she served as Director of the Language Lab, during which time the lab went from being a listen-only lab to a Sony system which permitted students to record their voices. She was still directing the lab when computers took over, and the first writing lab was introduced.
Due to her background in linguistics Joan began to teach Phonetics regularly and commenced materials development for that course. She and other professors who taught Phonetics couldn't find published materials appropriate for Spanish-speaking students in the context of Puerto Rico, so they worked together to produce a text and workbook which met this need.
Another of her publishing projects grew out of her coursework in the department. In the 1990s, she and Dr. Eileen Blau began talking about a concept for teaching reading at the 3101-102 level in which students would read a set of related readings of different types – nonfiction, fiction, and poetry on a given topic, for example, food, intercultural communication, the environment and the like. They believed that by reading related readings, students would build vocabulary and background knowledge of the topic, making it easier to read each new selection with understanding. At first they produced just one book, Building Understanding. which they developed with the needs of RUM students in mind. It was successful and Pearson Education asked them to do a lower level book, Building on Basics. Between 2007-2009, when they talked to Pearson about revising the first book, Pearson asked them to turn the project into three-book series, World of Reading, by adding a new first-level book. World of Reading is still in print
One publishing project that she started early in her tenure in the department was not related to her teaching. A representative of a book company (soon to be acquired by Litton Publishing) visited the chair looking for people interested in joining a team of writers to produce a new 6 level series in beginning, intermediate and advanced English as a Second Language. Joan interviewed with this company and was selected to be part of the nine-member team. Their work was originally published under the title English for International Communication in the late 1970s and revised under different titles and with different publishers, going out of print in about 2014.
Present Activities
Joan retired in December 2006, though she continued working with Eileen Blau on the World of Reading series until 2009. Once that was finished, she had time to return to an interest that she had held since 1992 – the Mayagüez Children's Library. While still teaching, she only had time to help the library by producing an occasional newsletter and acting as a liaison between the library and the English Department for certain activities. In 2009, however, the director of the library was carrying its weight alone, and she and other volunteers worked with him to form a new Board of Directors; she became its president, a position she still holds today. To learn more about the MCL see the library's bilingual website at www.bibliotecajuvenil.org