Por segundo año consecutivo estudiantes del Colegio de Ciencias Agrícolas participaron de la competencia anual que celebra la organización "Minorities in Agriculture, Natural Resources and Related Science" (MANRRS por sus siglas en inglés).  MANRRS es una organización que agrupa instituciones de enseñanza superior, con el propósito de desarrollar liderazgo y preparar a estudiantes de grupos étnicos minoritarios en universidades de Estados Unidos y Puerto Rico en el área de Agricultura y Ciencias relacionadas.  La competencia este año se celebró del 30 de marzo al 3 de abril en Jacksonville, Florida.
      Un grupo de ocho estudiantes subgraduados de la Facultad de Ciencias Agrícolas conformado por  Valerie Morales Coll, Noelymar González Maldonado, Stephanie Plaza Torres, Camila V. Elías Arroyo, Rey Cotto Rivera, Pedro Olivencia Morell, Santiago Acosta González y Austin A. Hullquist Jayne participantes del programa de investigación subgraduada financiado por el proyecto "Phase IX RIIA Grant Developing Resident Instruction in Food and Agriculture Related Science Land Grant Institution in the Pacific and Caribbean" que pertenece al Instituto Nacional para la Alimentación y la Agricultura del Departamento de Agricultura de los Estados Unidos (USDA/NIFA, por sus siglas en inglés).  A cargo de la Dra. Gladys M. González, Catedrática del Departamento de Economía Agrícola; el Dr. Ángel L. González, Catedrático jubilado del Departamento de Ciencias Agroambientales; y el Dr. Esbal Jiménez Cabán, Catedrático Asociado del Departamento de Ciencia Animal, y actual Decano Asociado y Subdirector de la Estación Experimental Agrícola.
        Los estudiantes tuvieron la oportunidad de presentar sus proyectos de investigación en forma oral o cartel.  Es importante mencionar  la excelente participación y presentación de los proyectos de investigación de todos los estudiantes que asistieron a la actividad y la riqueza de la experiencia académica, que sin duda será de gran beneficio para el desarrollo profesional de estos estudiantes.
        Cabe destacar que Valerie Morales Coll del Departamento de Ciencia Animal, obtuvo el primer lugar en la división I "Biological, Chemical and Phisical Sciences" con su proyecto "Factors associated with the incidence of exercise-induced pulmonary hemorrhage in equines" siendo el Dr. Abner Rodríguez, Catedrático del Departamento de Ciencia Animal, su mentor en la investigación.  Por otro lado, la estudiante Camila Elías obtuvo el segundo lugar en la división II "Education, Social Sciences and Business" con su proyecto de investigación "Availability of small ruminant meat at farmers' markets in Puerto Rico" quien trabajó con la Dra. Alexandra Gregory, Catedrática Asociada del Departamento de Economía Agrícola y Sociología Rural como mentora. Las estudiantes Morales y Elías participaron en la categoría de presentaciones orales en MANRRS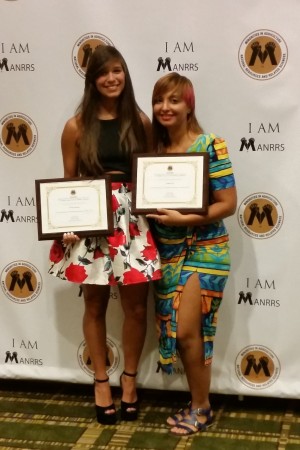 Valerie Morales Coll y  Camila Elías ganadoras del primer y segundo lugar en la competencia.