Lights, lip-sync and laughs were all that was heard at the Musical Drag Show hosted by SpectRUM. Musical performances ranged from classics like Cats and Wicked to modern shows like The Greatest Showman. The Figueroa Chapel amphitheater was full as friends and students came to see the drag queens and kings. The host of the show, Desire Cardoza, came out dressed as the bearded lady from The Greatest Showman and performed the famous number "This is Me" from the same movie. The performances were fascinating as the audience cheered for and applauded the Drag Queens and Kings.
After the show ended, we were able to interview two drag queens, Desire Cardoza and Ninel Monroe. We also interviewed two drag kings, Sylas Crow and Sandro Martin de la Fuente.
Desire Cardoza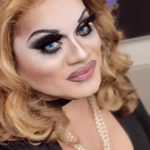 Desire Cardoza has been doing drag for almost 22 years. Her advice for future baby drag queens and kings is that it is hard. It involves a lot of sacrifice and plenty of money. Despite common belief, it's not only putting on makeup and learning a song, this requires a lot of talent and it's an up hill battle. Anyone that wants to do it, can do it if they're passionate enough. If you want to find a way to support the drag queens and kings community, simply consider that it has taken us a long time and dedication to get it to where it is right now. It's finally time that we are being accepted by heterosexuals and people from our own community as well.
Ninel Monroe Chacón
Ninel Monroe Chacón has been doing drag for 10 years. She prefers to do shows interpreting movie stars. She loves making people happy and laugh in the pubs, and seeing them enjoy the show makes her happy because this line of work is hard and you have to sacrifice a lot to be successful. Her advice for future baby drag queens and kings is that it's challenging and you have to win over the audience first. You have to put a lot of love, some money and, create companionship between your fellow drags. Everyone should grow together in this world that is different to the gay environment, which is a bit harsh with competitions. But, when you do it with love and with people that are in the profession as you are, to entertain and not to compete then everything falls into place.
Sylas Crow Cardoza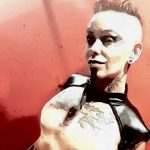 Sylas Crow Cardoza, son of Desire Cardoza, is part of the Drag King movement that's rising up and the shows that are coming to the west part of Puerto Rico. It was his first time doing a musical and he enjoyed it. He'd done shows in pubs, but this environment was completely different and he's also a cosplayer. Thanks to their cosplayer background, it helps their wardrobe choices . Drag was something Sylas always wanted to be a part of, and started in November, because that's when she came out. Sylas, just starting as a baby Drag King at 41, encourages others to be daring. You have to venture into it and perform the song that gives you life. He proclaims the need for more Drag Kings for this movement, because the community could die out soon. Although Drag Kings aren't common, Sylas joined the community of Drag Kings of Puerto Rico. They help each other, build themselves up and have fun. If you're transgender and not ready yet for treatment or other reasons, drag is a way to be more masculine or feminine. It has helped many and they enjoy it.
Sandro Martín de la Fuente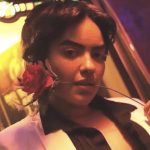 Sandro Martín de la Fuente started preforming during October in Santurce. Although the character turned a year old in January of this year, Sandro didn't bring the character to life until October and it has been spectacular. His advice for baby performers is to take a risk and try it. If you have a passion for it and you enjoy it, it is not necessarily to express your gender but to express your artistic side. It's to put your energy in the Arts and understand that is important to work with clothes, makeup, music, etc. Also look up information yourself more about the community and to learn about other Drag Kings or Drag Queens. If you become a part of this community, you're going to love this world.
To experience the environment of a community who are comfortable with themselves in every way is inspiring. Every time SpectRUM organizes an event like this one, it communicates to the LGBTQ+ that Colegio is a safe place to be yourself. It has been the association's goal to create a safe space for the community and have done a wonderful job. The English Department can't wait to see what they do next!
**If you ever need a safe space to go to, SpectRUM has its own office in the 6th floor of the Chardón Building.
Co-Authored by Carmen Moreno Crespo