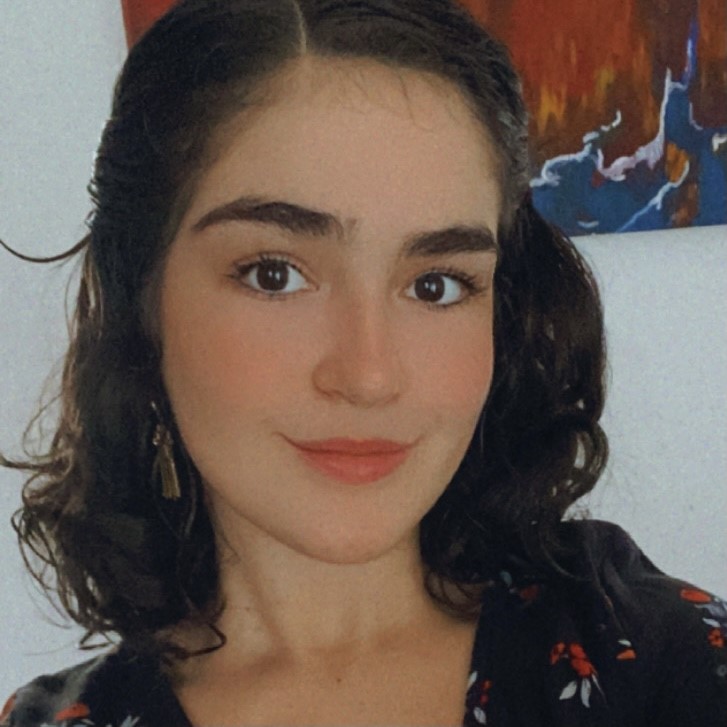 Isabel Padilla is an undergraduate student in the University of Puerto Rico Mayagüez currently studying English Literature. She forms part of the Administrative Staff as a work-study employee in charge of managing the English Department's website. Aside from that, she's a member of Sábanas Bilingual Literary Magazine working as an editor, social media manager, and event planner.
I always knew that I wanted to pursue a degree in English literature; nonetheless, in a world where significant value is placed on professions within STEM, people always asked me "What are you going to do with that?" In college, I realized that within English I could do so much fulfilling work in a variety of fields. For instance, I've had the opportunity to work within program management, mentoring, publicity, publishing, and even, tech support.
As a Chief Editor of Sábanas Bilingual Literary Magazine, I'm in charge of overseeing the copy editing that is done on short-stories and poetry. I am also responsible for developing the Editorial Letter of the magazine, where I summarize the themes of more than 117 works in just a few paragraphs. The purpose of the magazine is to provide a safe space for emerging writers to publish their work. We encourage writers to confide in us their most vulnerable selves, and by doing this we provide a platform for narratives that are typically overlooked. For instance, we have poet activists who write about domestic violence and femicide, natural disasters and political uproar, and even colorism and discrimination within the diverse population in Puerto Rico. Hence, this magazine tells the stories that don't make the headlines without censoring the writers' voices.
My time at the magazine as a social media manager also taught me how to work in a fast-paced environment without sacrificing quality to do so. Despite the fact that we could not advertise as we've always done because of the pandemic, I increased follower-count and engagement over 30% by designing eye-catching posts featuring snippets of authors' work. As the social media manager, I collaborated in the creation of the magazine's brand, by establishing a Sábanas color palette and using the same types of elements in posts. I was also able to help out in the redistribution process of our 7th and 8th volumes, which gave me the opportunity to meet and connect with writers published in the magazine. I am extremely grateful to the Sábanas team and Dr. Jose Irizarry for allowing be to grow within this space.
I've done similar work for the English Department as the Website Manager, for which I restructured the entire site, designed banners, and developed engaging blog posts to bring more traffic. I had the freedom to use my creative intuition and technical expertise to bring the director's vision of a 'clean' and 'student-friendly' website to life. The team of interns I led in Fall 2020 and Spring 2021 from the INTD3998 course helped me complete this objective, for they played a big part in 'user-experience' testing and data recollection. I am very thankful for their collaborative spirit and dedication to the website. I am currently planning to develop a series of projects intended to raise awareness to student excellence in the English Department and am very excited to learn more about the students' accomplishments.
The knowledge I gained working for the literary magazine and the department website allowed me to thrive in my remote internship at the Library of Congress as a Program Assistant for the Internships and Fellowships Program. I quickly adapted to the library's online workspace and utilized my ample skill set to became a highly-productive team member. Through this internship, I learned more about the work that goes behind event planning and used my skills to support the program specialists at the library. I had the opportunity to design program calendars, monthly newsletters, and even, project infographics. I was also in charge of all correspondence that went to interns after the Professional Development events, in which I wrote interesting takeaways and promote the library's main website. I am eternally grateful to the Hispanic Association of Colleges and Universities (HACU) for facilitating my professional growth.
I am in the process of completing a bachelor's degree in English Literature with a minor in Writing and Communications, and aspire to attain a master's and a Doctorate degree in the future. I am confident that these different experiences have helped me become a well-rounded candidate for Graduate school. For this reason, I encourage students to take advantage of any opportunity that comes their way, since you would never know what you might learn from it.