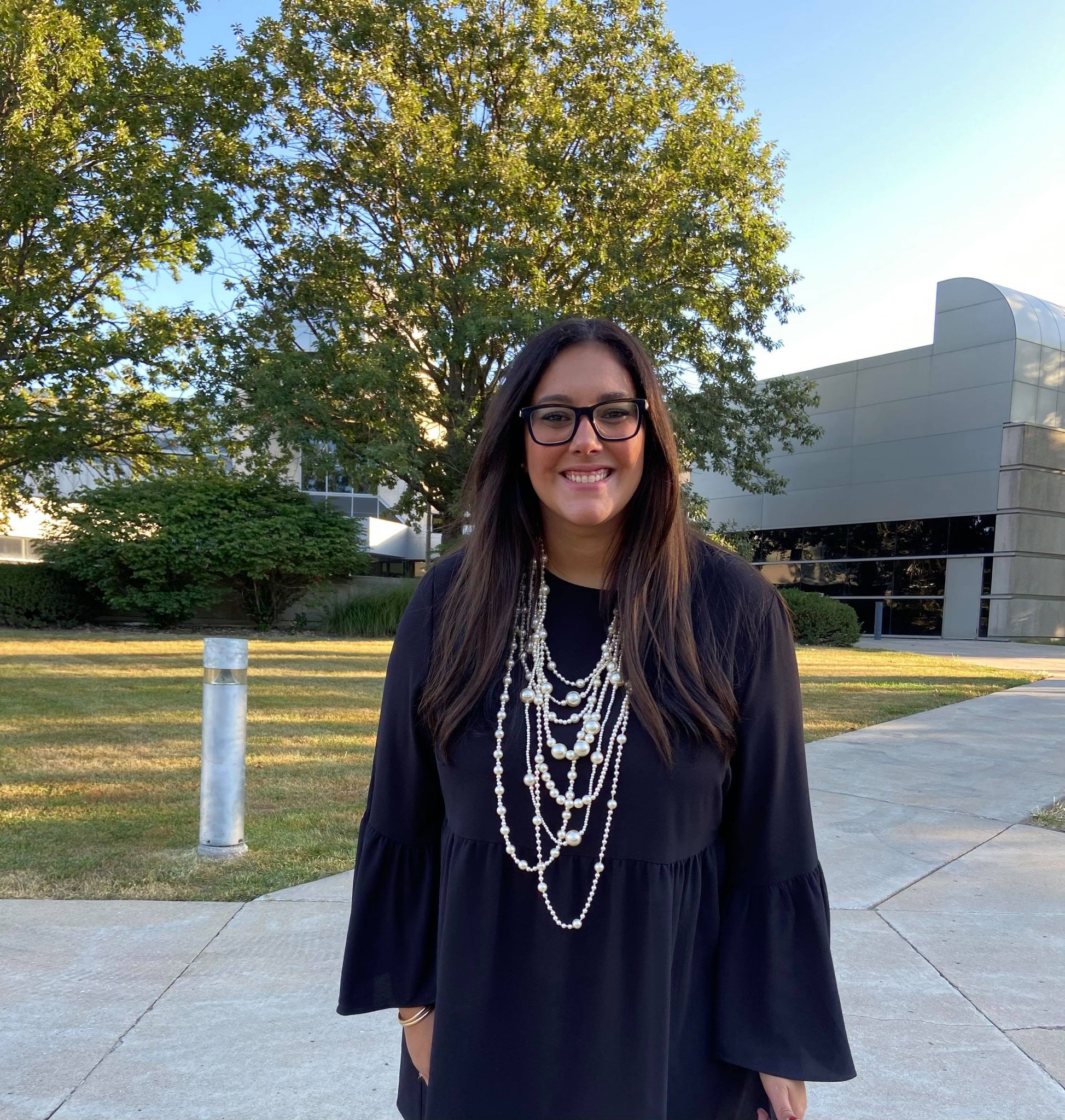 Tania Lefevre is a UPRM Alum, having attained both her Bachelor of Arts in English and a Master of Art in English Education (MAEE) in our campus. Before starting her Master's, Tania also graduated from the Pontificia Universidad Católica de Ponce with a Juris Doctor in 2013 and became a lawyer. Today, Tania is working as an Academic Advisor at the University of Iowa. There, she is also completing a joint interdisciplinary Ph.D. in Education and a Master of Arts in Library and Information Science.
If I am totally honest, I had not originally planned to pursue an English degree. When I first came to Colegio as a freshman, I was a Political Science major. My plan was to become a lawyer, for it was the "right thing to do." Little did I know that my journey had much more in store for me!
I remember my first year in college. I fell in love with my intermediate English courses and dreaded my poli-sci classes. Since I had to take six more English credits to comply with my requirements, I went to the English Department to get a list of their courses. I remembered feeling so welcome by everyone. Looking at the course offerings, I thought to myself, English majors are so lucky. They get to study Shakespeare and American Literature—plus, they get to have this cool English lounge! What am I doing wrong that I don't feel this excited for my political science classes and major?!
That summer I took a political science core class and an English elective to get ahead on my course credits. However, I loved my English elective and ended up dropping my core class. Then and there, I realized that if I wanted to enjoy my college experience, I needed to make a change. On my last day of summer class, I went to the Registrar's Office to officially transfer over to English. This was by far one of the best decisions I have ever made.
During my Bachelor's, I was able to participate a semester-long exchange program at the University of Massachusetts. I also had the opportunity to work as an intern for Senator María de Lourdes Santiago at the Jorge A. Ramos Comas internship.
I loved my experience as an English major so much, and after law school (yes! I did become a lawyer), I went back to the same cozy and quaint English Department to pursue my Master of Arts in English Education.
Learning from the English Department faculty was probably my favorite part of my experience as an English major. Professors in our department feel very passionate about their work, and it shows! Because of my professors, I learned how to be a better student, educator, professional, and a better human being overall. Professors in the English Department approach teaching holistically. I felt very comfortable going to any of them to talk about anything academic-related and non-academic. I still keep in touch with some of my professors from the English Department, for they have become life-long mentors.
My current philosophy of education and how I approach my career in general are grounded in what my professors taught me. They helped me realize that life happens outside the classroom, and the classroom is an extension of that.
Another one of my biggest accomplishments is my law degree. I graduated from the Pontificia Universidad Católica de Ponce with a Juris Doctor in 2013. Later, in 2016, I triumphantly graduated from the English Department once again with an M.A.E.E.
I have very fond memories of my Master's; I had a blast! The curriculum was terrific, and the community we built during those years was indeed a blessing. What I liked the most about my Master's, was my teaching experience. I got to teach for the very first time and had my very own first group of students. The memories I created with my students; I have cherished since then. I still receive random emails from my former students at Colegio, letting me know where they are now—that always gives me a sense of fulfillment and makes me feel happy and proud of my student's achievements.
In the midst of being a student, I got married to my high school sweetheart and became a mom to my beautiful son Nico. I remember being 9 months pregnant and teaching the same class that started my love for the English Department, Intermediate English.
After I graduated with my Master's, I moved to Iowa City to pursue a joint interdisciplinary Ph.D. in Education and a Master of Arts in Library and Information Science at the University of Iowa. Professionally, I have worked as a lawyer at the Iowa Civil Rights Commission. I am currently working with law students at the University of Iowa Law School as their Academic Advisor.
What I feel most proud of are my students! I love teaching and working with students! I thrive on student's energy; their liveliness and enthusiasm for learning give me life! I was very fortunate to have had the experience of teaching at Colegio while doing my Master's. I also taught in different capacities here at the University of Iowa. I even taught an entire amphitheater full of students (pre-pandemic)! I loved every second I got to share with students. I traded courtrooms for classrooms and continued my social justice work one classroom and one student at a time.
Life has allowed me to pay it forward. The young Tania, who once felt lost, insecure, and afraid as a political science major, gets to share her experience, and use it as an empowerment tool to students who feel just as I did. I get to use my story and the tools I have picked out along the way to advise students. One of those tools, is everything I learned while I was a student at the English Department at Colegio. I hope that my guidance can help students achieve their potential while enjoying every second of their student life and future careers.